As the saying goes, "The ancestor worship ceremony on the winter solstice should be as formal as that in the Spring Festival." This year, the winter solstice falls on December 22, the twelfth day of the eleventh month of the Chinese lunar calendar. According to the tradition of Chinese Buddhism, Lingyin Temple, like many other temples, held a ceremony worshipping the Four Vehicles with vegetarian food to honor the patriarchs' great virtues and mourn for the previous generations of Buddhist masters. The ceremony also aims to cultivate and reinforce faith of the younger generation to enhance their sense of responsibility in the practice of Buddhism.
Upon the pleasing conclusion the ceremony, the resident Buddhist masters gathered at the hall to hold another solemn ceremony that would release the souls from samsara (the endless cycle of birth and death), save immeasurable living beings from suffering and pray for eternal happiness for all sentient beings.

Meanwhile, at the time of the winter solstice, Lingyin Temple advocated that the general public should act with compassion and altruism, cherish and protect life, release captive animals, and try to abstain from meat in a healthy way. People should transfer their merit to all sentient beings through the pure good karma and meritorious virtues. Lingyin Temple also prayed for peace and the end of suffering on the earth. It was hoped that all sentient beings would have the opportunity to know the true Dharma, possess righteous and altruistic belief and behavior and harvest an auspicious and serene life.

Chanting of sutras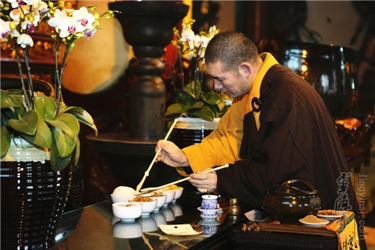 Praying for all sentient beings

Venerating the patriarchs before the pagodas