On January 25, 2016 (the sixteenth of the twelfth month in Chinese lunar calendar), a grand enthronement ceremony (a ceremony to celebrate the promotion of a Buddhist master to the position of the abbot of a temple) for Ven. Weichen was held in Fajing Temple (also known as Zhong Tianzhu). Abbot of Lingyin Temple Ven. Guangquan attended the ceremony and granted the Buddhist mat to Ven. Weichen. Distinguished attendees also included Deputy Mayor of Hangzhou Mr. Zhang Jianting, Deputy Director of Ethnic and Religious Affairs Committee of Zhejiang Province Mr. Ni Zhongyang, Director and Deputy Director of Hangzhou Municipal Bureau of Ethnic and Religious Affairs Mr. Yang Zhigang and Mr. Tang Mingzhuang. Representatives from Buddhist associations of Hangzhou included persons in charge of Buddhist temples of Hangzhou for all districts and counties, Dean and Vice Dean of Hangzhou Buddhist Academy, and around 800 Buddhist disciples and believers. The Buddhist Association of China also sent congratulations by telephone.
Vice-chairperson of the Buddhist Association of Zhejiang who is also Vice-chairperson of the Buddhist Association of Hangzhou, Ven. Yuezhen, along with honorary Member of the Chinese Academy of Social Sciences Mr. Yang Zengwen, Deputy Mayor of Hangzhou Mr. Zhang Jianting all addressed the ceremony followed by Abbot of Fajing Temple Ven. Weichen with a thank-you speech.

Fajing Temple donated RMB 100,000 to Genglou Nursing Home of Jiande City at the ceremony in the Buddhist spirit of serving the society and altruism. This demonstrated the social responsibility of Ven. Weichen and the Sangha of Fajing Temple to care about the elderly and to offer salvation benevolence and great love of mind.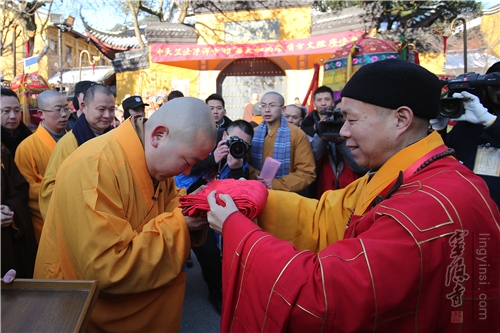 The grant of the Buddhist robe to Ven. Weichen by Ven. Xincheng

The grant of the Buddhist prayer beads to Ven. Weichen by Ven. Yizang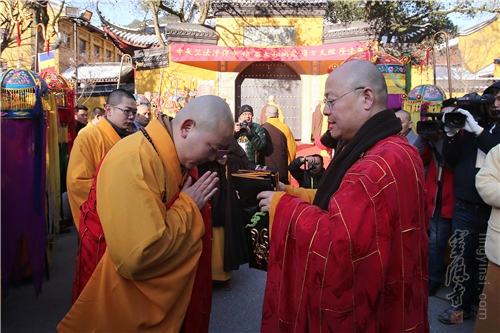 The grant of the Buddhist mat to Ven. Weichen by Ven. Guangquan

The grant of the alms bowl to Ven. Weichen by Ven. Zhiming

The grant of the Buddhist hossu to Ven. Weichen by Ven. Yuezhen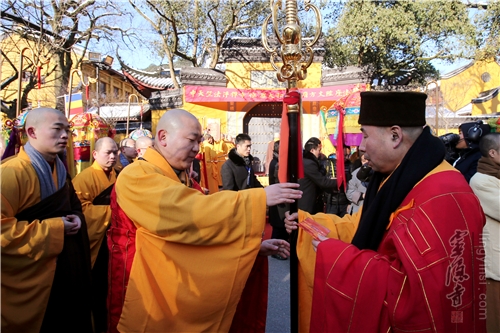 The grant of the Buddhist tin staff to Ven. Weichen by Ven. Jieyuan

The grant of the Chan staff to Ven. Weichen by Ven. Dingben

The grant of the Ruyi to Ven. Weichen by Ven. Jiexing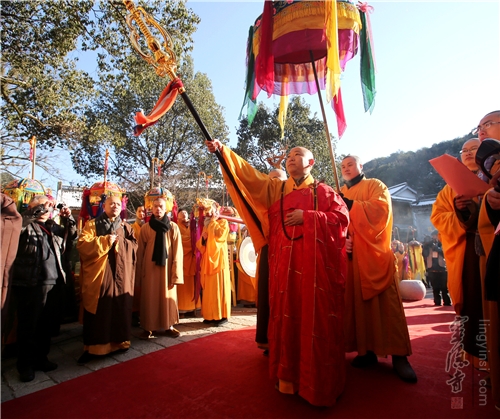 The gesture of pointing the Buddhist staff to the temple
gate symbolizing Ven. Weichen's promotion to Abbot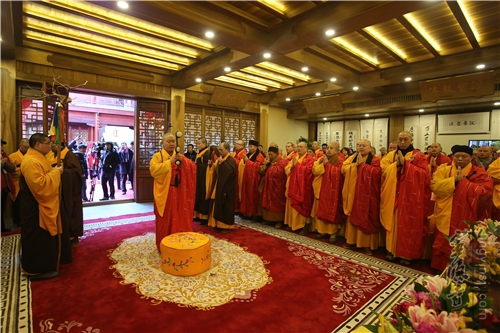 The grand enthronement ceremony at the Dharma Hall

Attendees addressing the ceremony

A donation of RMB 100,000 of Fajing Temple to
Genglou Nursing Home of Jiande City