At 9:00 am on February 15, 2016 (the 8th of the first lunar month), the Chinese New Year Gathering was held at Lingyin Temple. Over 400 Buddhist believers gathered at the Dharma Hall and Abbot of Lingyin Temple Ven. Guangquan addressed the audience and extended his best New Year wishes.
After Ven. Guangquan's talk, the audience watched a compilation video of activities held by Lingyin Temple in 2015 and got to know more about the efforts of Lingyin Temple and its Sangha in social charity, Buddhism promotion and other Buddhist activities.

Ven. Guangquan said that Lingyin Temple would continue to promote Buddhist education and make more efforts in providing chances for Buddhist believers to study Buddhism and strive for a pure land on earth.

After the event, Ven. Guangquan told us that all of the money donated by the Buddhist believers would be used for the animal release activity in spring so that living animals and souls can be saved and merits can be returned to the general public for their charity.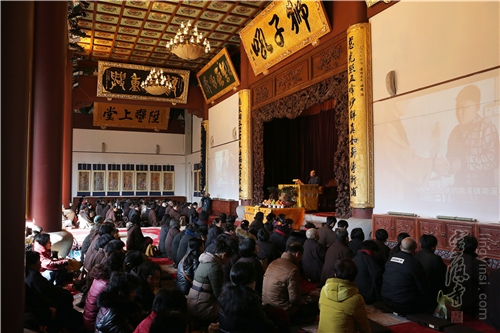 The Chinese New Year Gathering


Ven. Guangquan addressing the audience at the Chinese New Year Gathering

The audience listening attentively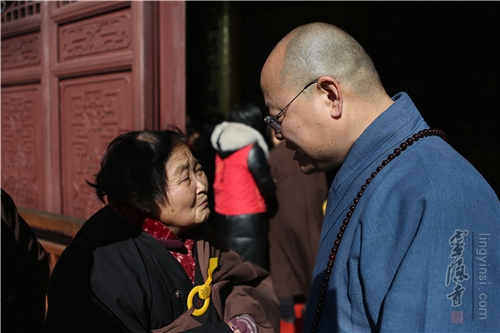 Ven. Guangquan talking to a Buddhist believer

A Lingyin calendar with Buddhist sayings on it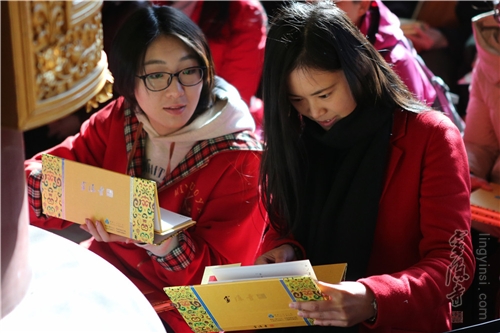 Joyful Buddhist believers