On June 8, 2016, Yunlin Library jointly built by Yunlin Academia of Lingyin Temple and Liuxia Subdistrict was inaugurated at Dongmuwu Auditorium. Guests in attendance included the Secretary of the Party Working Committee of Liuxia Subdistrict Wang Qing, the Deputy Secretary Lu Weiwen, Abbot of Lingyin Temple Ven. Guangquan, Master Huicheng and Master Zhengqin from Lingyin Temple; Lecturer in attendance included Zhu Suying from Yunlin Academy, Professor Ma Meiying from Zhejiang University Community Culture Research Institute, Associate Professor Yin Yue from Hangzhou Wanxiang Polytechnic, and over fifty local representatives of Liuxia Subdistrict.

The Secretary of the Party Working Committee of Liuxia Subdistrict Wang Qing stated at the inauguration ceremony that the establishment of Liuyun Academy was one of the highlights of the subdistrict's cultural service, which aims to provide high-quality cultural service to the residents of the community. He also expressed his hope that the cultural service of Liuxia Subdistrict will continuously improve in the future with the joint effort of the community and Yunlin Academia.

Abbot of Lingyin Temple Ven. Guangquan gave a speech at the inauguration ceremony and emphasized the role and significance of academies in the contemporary social culture construction during this time of full flourish for the traditional culture. Yunlin Academia, as an important part of the cultural service—along with Liuxia Subdistrict and Yunlin Academia—together they should not only shoulder the responsibility of inheriting the spirit of the Chinese traditional culture, but also keep pace with the times and actively encourage cultural innovation so as to breathe new life into the traditional culture.

Ven. Guangquan also introduced the core ideas of Lingyin Temple – "compassion", "gratitude" and "tolerance" to all attendees at the ceremony filled with dharma joy.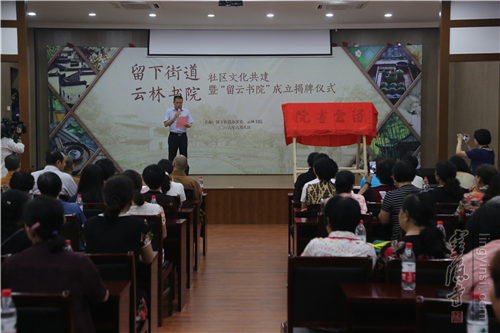 The inauguration ceremony of Yunlin Academy


The Secretary of the Party Working Committee of Liuxia Subdistrict
Wang Qing giving a speech at the inauguration ceremony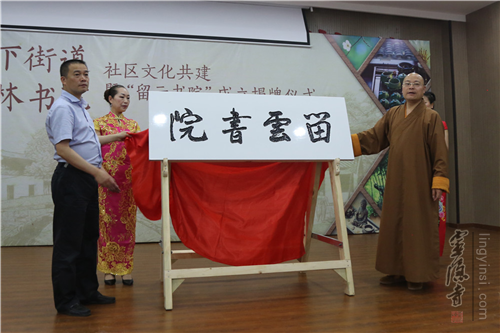 Secretary Wang Qing and Ven. Guangquan unveiling
the nameplate of Liuyun Academy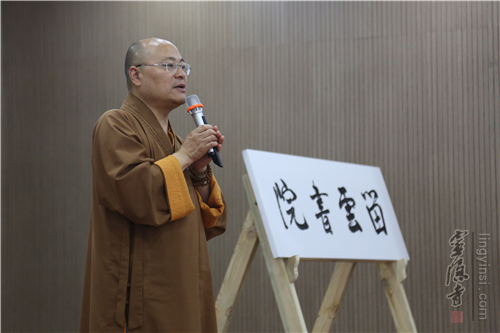 Abbot of Lingyin Temple Ven. Guangquan speaking
at the inauguration ceremony