On June 17, 2016, a community wellness program was demonstrated and promoted jointly by Lingyin Yunlin Academy, Caihe Jianfeng Residential Community and Hexiang Academy. Guests in attendance included the Director of Caihe Subdistrict Recreational Center Mr. Dai Zhiming, Master Puming from Hangzhou Buddhist Academy, Taoist Dong Xianrong from Hangzhou Fuxing Taoist Temple, Master Huicheng and Lecturer Zhu Suying from Lingyin Yunlin Academy, as well as five community counselors and eighteen resident representatives.

First, Lecturer Zhu Suying gave a general introduction to the wellness program. It is a fitness program for the elderly jointly initiated by the Buddhist Association of Hangzhou and the Taoist Association of Hangzhou, organized by Lingyin Yunlin Academy and sponsored by Yunlin Charitable Foundation. It aims to help residents suffering from diseases recover more promptly and to promote the traditional health care. Such a program is significant in satisfing the residents' needs of practicing wholesome exercise and also helps to promote the Chinese traditional culture.

Master Puming demonstrated to the residents the dynamic and static balance, and the detached feeling of practicing Buddhist rituals and Buddhist meditation.

Lastly, Taoist Dong Xianrong showed to the residents the method of Zhan Zhuang (literally: standing like a post, a training method practiced by Taoists), which helps to breathe in fresh air and exercise the body and mind.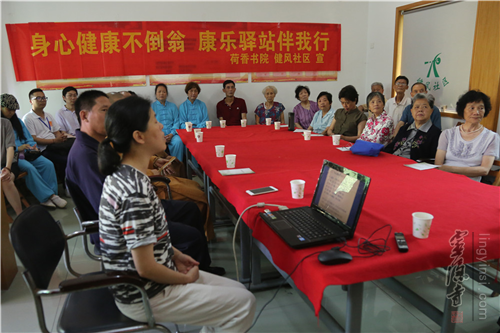 A wellness program promoted in Jianfeng Residential Community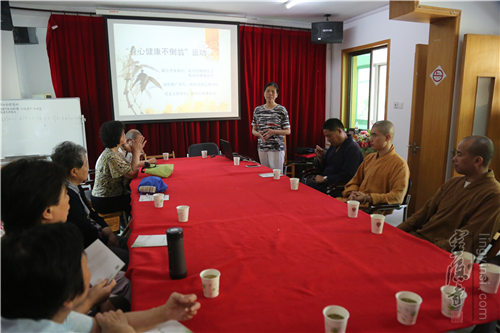 Lecturer Zhu Suying introducing the wellness program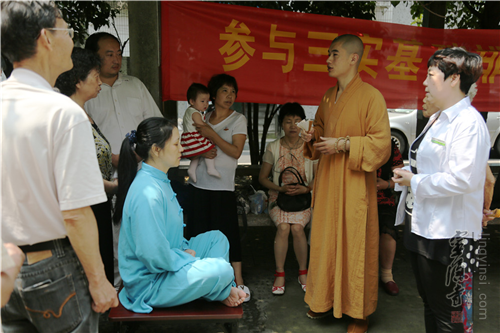 Master Puming explaining the essence of practicing Buddhist meditation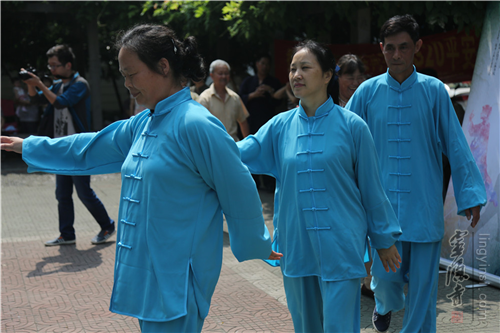 Community counselors