On August 1, 2016, a painting and calligraphy exhibition featuring benevolence and filial piety was co-organized at Zhejiang Library by Lingyin Temple, China News Service (Zhejiang), Zhejiang Library, Jiang Nan Artists, Hangzhou Painting and Calligraphy Service Co. Ltd. under the guidance of Zhejiang Provincial Department of Culture.

Master Tongrun of Lingyin presided over opening ceremony, special guests in attendance included Director-General Jin Xingsheng and former Director-General and renowned calligrapher Qian Facheng of Zhejiang Provincial Department of Culture, Secretary of the Secretariat of Zhejiang Federation of Literary and Art Circles Zhao Yanjun, Director-General Yang Zhigang and Director Hu Shengjun of the Religious Department of Hangzhou Municipal Bureau of Ethnic and Religious Affairs. Abbot of Lingyin Temple Ven. Guangquan, Abbot of Taoguang Temple Ven. Yuezhen, Abbot of Lingshun Temple Ven. Yinxu graced the audience with their speeches.

Ven. Guangquan gave a speech at the opening ceremony that expounded the importance of promoting benevolence and filial piety. He mentioned that in Buddhism, benevolence embodies anatman (non-self) and brings happiness to others; filial piety lays stress on filial respect for parents and is one of the most important social ethnics that comply with the order of nature. He hoped that this painting and calligraphy exhibition could visually disseminate Buddhist culture and the concept of filial piety to the society and create an atmosphere in which everyone honors their parents and respects senior citizens. He said that the exhibition was also a precious sharing of the traditional Chinese culture with guests from cross-Straits and all regions for stronger ties.

Secretary Zhao Yanjun and other artists also gave speeches on the significance of promoting the traditional Chinese culture.

At the end of the ceremony, Ven. Guangquan, Ven. Yinxu, Ven. Changfa, Director Gu Xiangsen and Deputy Director Chai Yanfei of Xiling Seal Club awarded donation certificates to the Director of Qiantang Painting and Calligraphy Research Society Cai Yunchao and the other fourteen artists who donated their on-site works.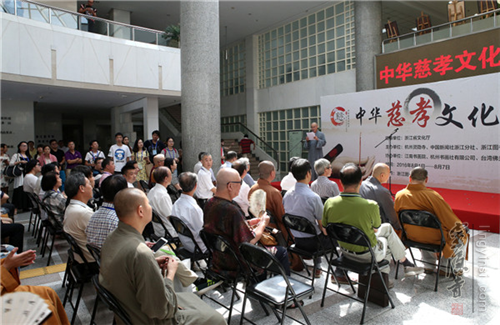 Opening ceremony of the painting and calligraphy
exhibition featuring benevolence and filial piety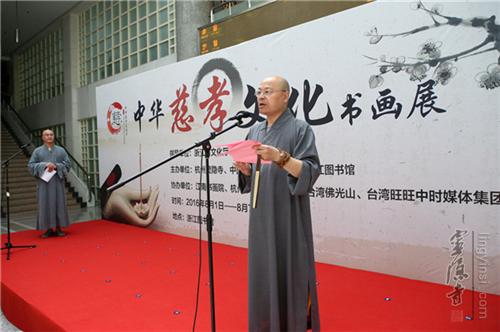 Ven. Guangquan giving a speech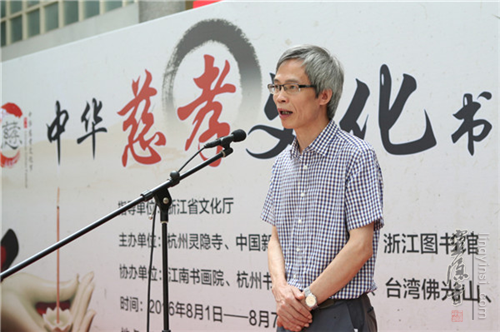 Secretary Zhao Yanjun giving a speech

Deputy Dean Gao Fagen giving a speech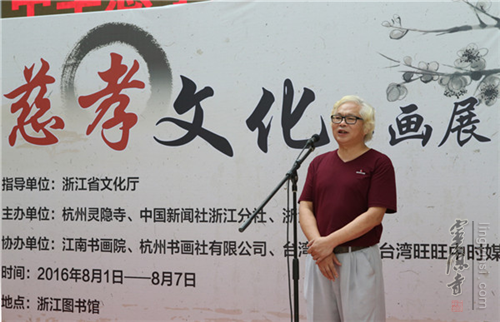 Dean Song Baisong giving a speech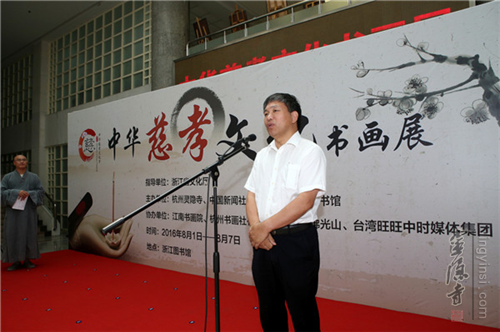 Director-General Jin Xingsheng announcing the opening of the exhibition

A group photo after the opening ceremony

Ven. Guangquan appreciating the exhibits

Ven. Yuezhen viewing the exhibits

Secretary Yang Zhigang appreciating the exhibits

Ven. Yinxu improvising caligraphy demonstration

Artists improving on the spot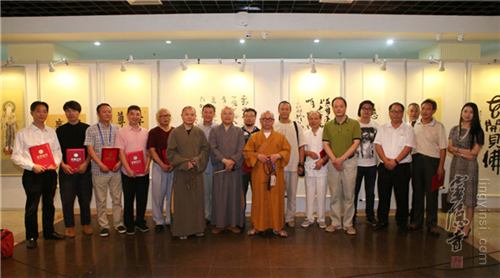 A group photo after the award presentation

Save