On September 11, 2016, Abbot of Lingyin Temple Ven. Guangquan warmly received the Buddhist delegation led by Ven. Kotte Chapter from Sri Lanka. Members of the delegation included the Secretary of the Kotte Chapter delegation, Ven Thiniyawala Palitha Thero; the Secretary General of the Amarapura Nikaya delegation, Ven. Brahmananwattc Seevali Thero; and the President of Sri Lanka-China Buddhist Friendship Association Sumathi Dharmawardena.

After Ven. Guangquan introduced the history and the development of Buddhism of Lingyin Temple to the delegation, Ven. Kotte Chapter spoke highly of the long history and the enduring robust Buddhist atmosphere of the temple. He said that he was immediately attracted by this Buddhist sacred place with a profound Buddhist connotation that had been passed down from over one thousand years ago.

After a review of the long history of friendship between the two countries, they had a friendly exchange of opinion on the development of Buddhism in Sri Lanka and China and the ways of how to promote Buddhism. Ven. Kotte Chapter extended his sincere thanks to Ven. Guanquan again, who selflessly donated the alms he received in Sri Lanka to a local school. He then expressed his hope that there should be more communication and exchanges between Lingyin Temple and the Buddhist community in Sri Lanka. He also sincerely invited Ven. Guangquan to visit Sri Lanka again.

In the end, they exchanged gifts and took a group photo to mark the occasion. Then the delegation tasted the vegetarian food carefully prepared by Lingyin Temple and experienced the characteristics of the Buddhist cooking culture in China.

Ven. Guanquan receiving the Buddhist delegation
from Sri Lanka at the main gate of the temple

Ven. Kotte Chapter worshiping the Buddha with incense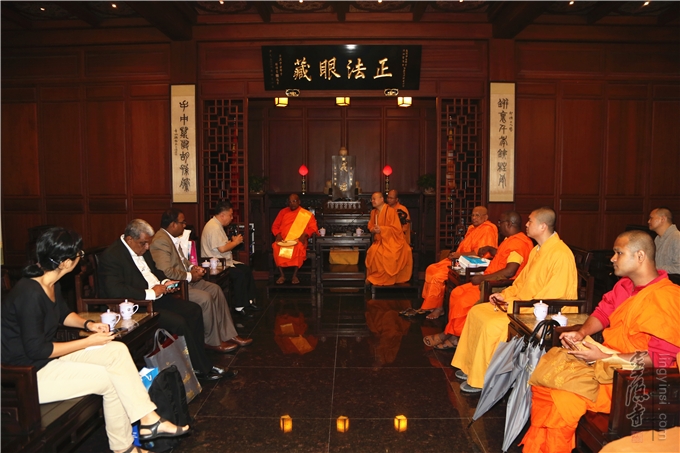 Exchanging ideas on the Buddhist culture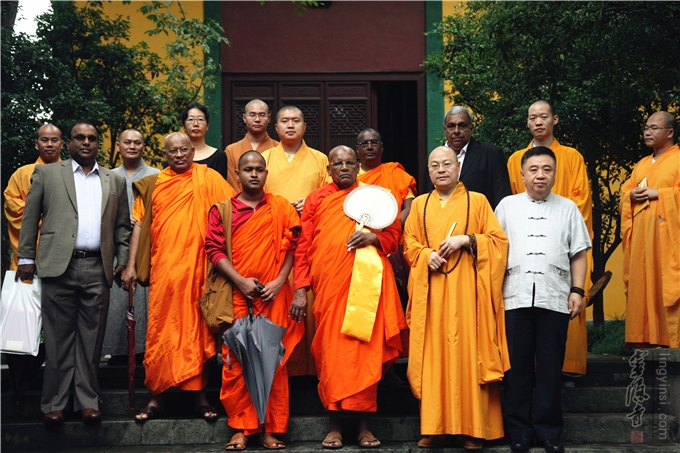 group photo

Save