Afternoon of February 13, 2017, the opening ceremony of the thangka (a Tibetan Buddhist painting on cotton or silk applique, usually depicting a Buddhist deity, scene or mandala) exhibition was held at Lingyin Temple. The theme of this Tibetan Buddhism art exhibition was "Me as the Flowing Existence". Forty-nine thangka paintings by Zhaxi Jiancuo, Qu Zhi, Li Xiang and other thangka masters were shown at the exhibition, including the biggest gold thangka painting in the country and two ancient thangka paintings of the Qing dynasty. The rest of the paintings were thangkas with red background, black background and thangkas with multi-colored background. Demonstrations with pigments and part of the thangka making process were also shown at the exhibition to reveal the mysterious and colorful thangkas.
Abbot of Lingyin Temple Ven. Guangquan addressed the opening ceremony, "Abundant and unique cultural phenomena and artistic works were produced during the adaptation and integration process of Buddhism and regional cultures. Thangka is an art that was born from the combination of the Buddhist culture and the Tibetan culture. This art form also learned painting techniques from the Han people when it integrated with the Han ethnic group. It is a manifestation of the localization of Buddhism in China," said Ven. Guangquan.
The thangka exhibition was host by Lingyin Temple and Longshu Zang, and co-organized by Heng Lu Art Museum and Longshu Painting Institute. The exhibition is open from January 28 to February 28, 2017.




The opening ceremony of the exhibition




Ven. Guangquan addressing the opening ceremony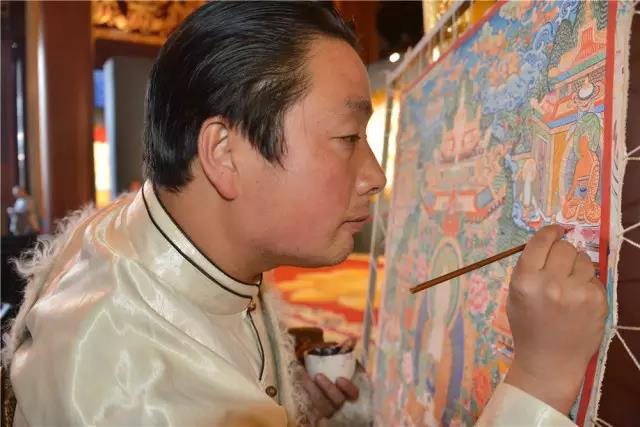 A thangka artist demonstrating process of thangka painting



Save