On March 25, 2017, the former president of the International Olympic Committee Jacques Rogge and his wife visited Lingyin Temple as Abbot of Lingyin Temple Ven. Guangquan and other Buddhist masters warmly received them.
Ven. Guangquan showed them on a tour of the temple and introduced the halls of the temple to them. They sat down and had a meeting in the formal guest reception hall, where Ven. Guangquan proceeded the the warm reception to the guests and gave a brief introduction to the temple. "In recent years, Lingyin Temple has been making continuous efforts in the inheritance of the traditional culture and the promotion of Buddhism by actively engaging in various culture exchanges," said Ven. Guangquan.
Mr. Rogge stated at the meeting that although sports are not religion, but have a lot in common with Buddhism – both of them advocate equality, diversity and inclusion and friendship. At the end of the meeting, Ven. Guangquan and Mr. Rogge exchanged gifts of benevolence with each other to conclude a remarkable day of international goodwill.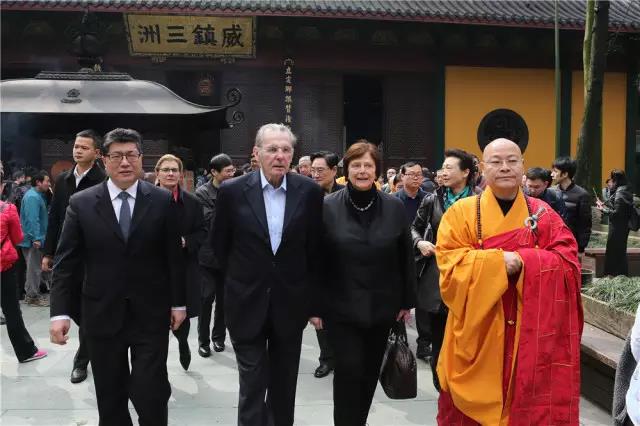 Former president of the International Olympic Committee
and his wife visited Lingyin Temple




Ven. Guangquan introducing the halls of the temple to the guests




At the meeting




Exchanging gifts


Save