On November 20, 2017, the Vice Secretary General of The Buddhist Association of China, Chairman of The Buddhist Association of Hangzhou and Abbot of Lingyin Temple, Venerable Guangquan, visited the Headquarters of the United Nations Educational, Scientific and Cultural Organization (UNESCO) in Paris, France at the invitation of the Director-General of UNESCO Irina Bokova. At 7:30 pm (2:30 am Beijing Time) on November 21, the Chinese Buddhist Culture Night was officially launched at the Headquarters. Distinguished attendees included the Assistant Director-General for Culture of UNESCO Francesco Bandarin, the Ambassador and Permanent Delegate of the People's Republic of China to UNESCO Shen Yang, the Executive Chairman of Association des Chinois Résidants en France (Association of Chinese Residents in France) Jin Linze, and over one hundred other Chinese and foreign guests.
As pointed out by Ven. Guangquan in his speech at the opening ceremony, the Silk Road used to serve as an important bridge for trade and cultural communication between the East and the West. It has been a long history for people of different ethnic groups and cultures communicated with each other, co-existing and co-flourishing. The timely Belt and Road Initiative has given a vigorous boost to the equal exchanges of religious cultures among different regions, thus making the Silk Road a carrier of history as well as a path leading to cultural exchanges and mutual learning, harmony and inclusiveness, peace and friendship, common development and prosperity.
The Chinese Buddhist Culture Night presented "Photography Exhibition Featuring Buddhist Culture Along The Belt and Road Countries", "Art Exhibition of Modern Chinese Buddhism" and "Yunlin Tea Art of Lingyin Temple". At the Photography Exhibition, over 40 representative photography works in the theme of Buddhist culture were put on display, demonstrating the Buddhist cultures in China, India, Nepal, Bhutan, Thailand, Myanmar, Laos, Cambodia, Indonesia, Sri Lanka, etc., but sufficiently reflecting the harmony in the intercultural communication of religions and ethnic groups among these countries. A collection of paintings and calligraphy works by famous modern artists in Zhejiang Province were shown at the Art Exhibition to illustrate their new interpretations of the ancient Buddhist art and culture. Buddhist masters from Lingyin Temple also demonstrated the time-honored Yunlin tea ceremony to the Chinese and foreign guests at the ceremony.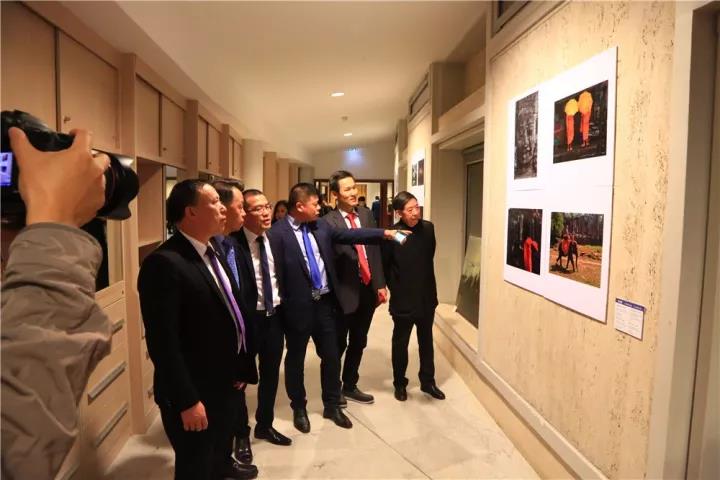 Photography Exhibition Featuring Buddhist Culture Along The Belt and Road Countries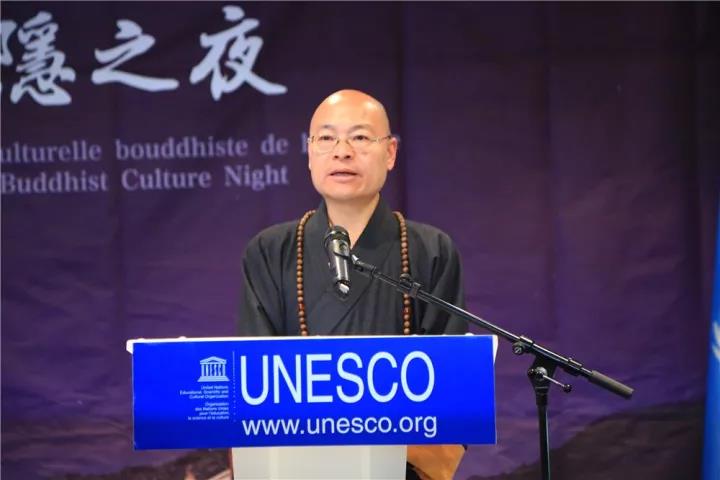 Ven. Guangquan delivering a speech at the opening ceremony of the Chinese Buddhist Culture Night
The Ambassador and Permanent Delegate of the People's Republic of China to UNESCO Shen Yang delivering a speech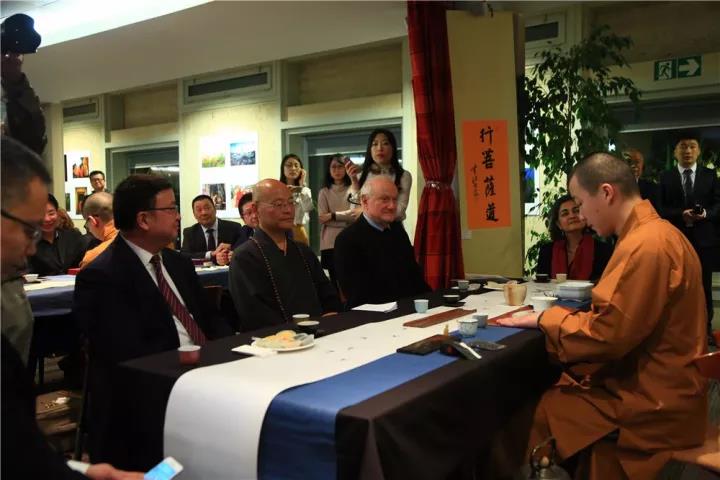 The Assistant Director-General for Culture of UNESCO Francesco Bandarin having an experience of Yunlin tea art