On December 2, 2017, the opening ceremony of the annual academic symposium on Wuyue Buddhism (Buddhism promoted by the King of the Wuyue State during the Five Dynasties and Ten Kingdoms (907-960)) was held on Fayun Campus, Hangzhou Buddhist Academy. The rector of Hangzhou Buddhist Academy and Abbot of Lingyin Temple, Venerable Guangquan, attended the ceremony and delivered a welcoming speech.
This academic symposium comprises three sub forums—the inaugural meeting of The Eastern Research Society on Yogacara, the seminar to mark the 100th anniversary of Master Peifa,and the seminar on Buddhist exchanges between China and Sri Lanka. Attendees included over 140 representatives from domestic and foreign universities, research institutes and Buddhist academies, such as Peking University, Buddhist Academy of Emei Mountain, Jiechuang Buddhist Academy in Suzhou, Fujian Buddhist College, Jianzhen Buddhist University, The Chinese University of Hong Kong, Dharma Drum Institute of Liberal Arts in Taiwan, Fo Guang University in Taiwan, University of Delhi in India, Universiti Tunku Abdul Rahman in Malaysia, University of Tsukuba in Japan, etc. With over 130 research papers received, the number of attendees and papers has reached a record high.
In his speech, Ven. Guangquan expressed his congratulations on the successful opening of the symposium, "The inheritance and development of Buddhism depends on the cultivation of Buddhist talents, the key to which lies in the construction of Buddhist academic research. It takes one generation or even more of experts and scholars both home and abroad to jointly dedicate their life to the construction of Buddhist academic research so that great achievements can be gained." Ven. Guangquan also expressed his earnest hope that joint efforts are made to give a boost to the flourishing development of Buddhist academic research.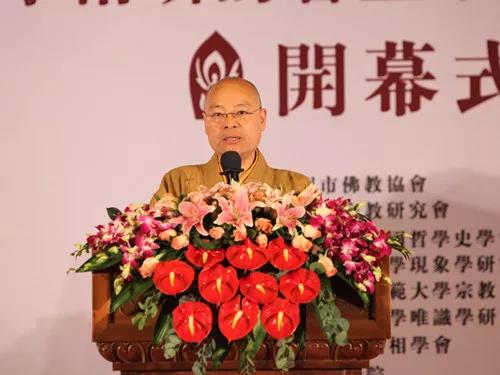 Ven. Guangquan delivering a speech during the opening ceremony of the symposium
Professor Wang Qi from Chinese Academy of Social Sciences Institute of Philosophy delivering a speech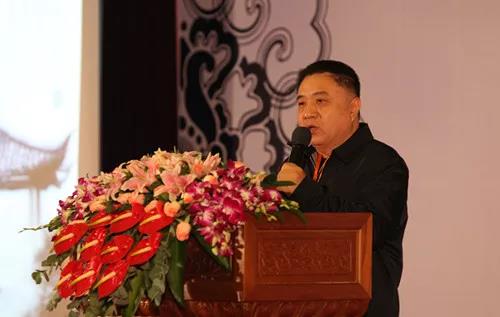 Professor Hao Weimin from Longhua Chinese Institute in Sri Lanka delivering a speech
Buddhist masters and scholars at the symposium
The inauguration ceremony of The Oriental Research Society on Yogacara
Event group photo