On May 22, 2018, the annual Buddha Bathing Dharma Assembly was solemnly held at Lingyin Temple in the early morning amidst the sounds of bell and drum to celebrate the Buddha's birthday (the eighth day of the fourth month of the Chinese calendar). The abbot of Lingyin Temple Venerable Master Guangquan presided over the ceremony.
At 8:00 am, about one thousand Buddhist monks and nuns, including Buddhist masters from major Buddhist temples in Hangzhou and Hangzhou Buddhist Academy, as well as the novice monks currently attending the Triple Platform Ordination Ceremony organized by Lingyin Temple and Fajing Temple, gathered at Faxi Temple (also known as the Upper Tianzhu) for the annual alms round. Strictly following the Buddhist tradition of the alms round, in which all Buddhist monks and nuns were dressed in a Buddhist robe with a large bamboo hat over the head and an alms bowl in the hand, just as Buddhist masters did in the past. They set off from Faxi Temple, passing Fajing Chan Temple (法净禅寺, also known as the Middle Tianzhu) and Fajing Temple (法镜讲寺, also known as San Tianzhu) along the ancient Tianzhu Road and heading for the ceremony platform at Lingyin Temple. The procession lasted for nearly three hours, during which the massive crowd gave alms with great bliss by placing offerings in the alms bowls. Afterwards, the Buddhist masters gathered in front of the Mahavira Hall of Lingyin Temple and donated all the offerings they received along the procession to social and charitable organizations for public benefit.

At 11:00 am, the Alms Offering Ceremony for the Sangha was held at the Purple Bamboo Square of Lingyin Temple, providing alms and honor for Buddhist monks from ten directions. After the ceremony, all the Buddhist masters returned the merits by praying earnestly for peaceful relations in the world, national prosperity and the well being of the people. They also prayed that all Buddhist followers would harvest wisdom and auspiciousness.

Respectful reception proceeding of the statue of Prince Siddhārtha Gautama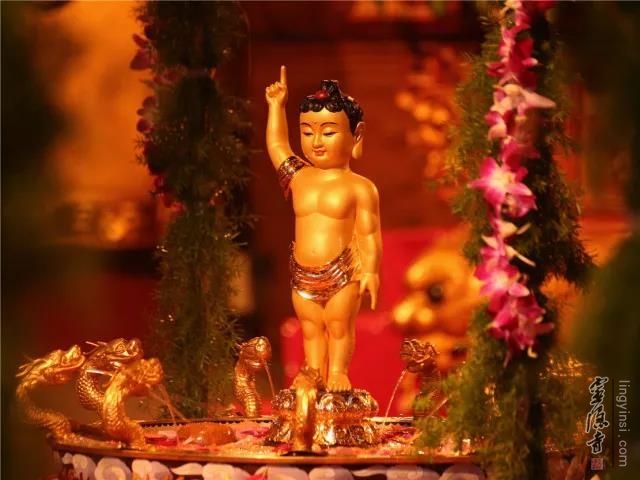 Paying respect to the Buddha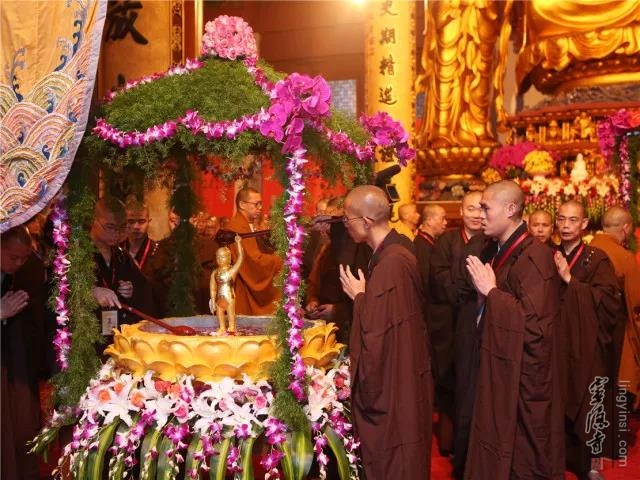 Respectfully bathing the statue of Prince Siddhārtha Gautama
The alms round
Venerable Master Guangquan giving an enlightening Dharma talk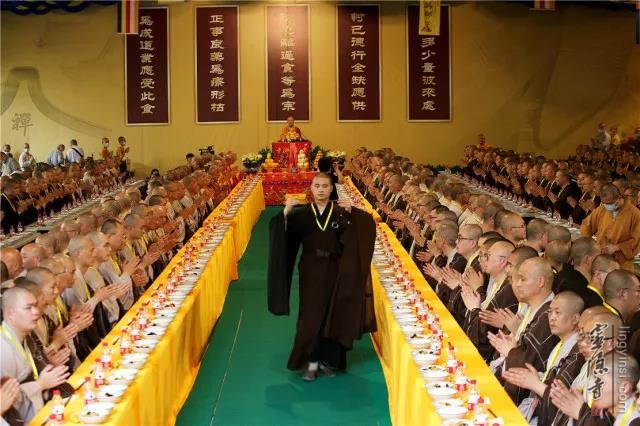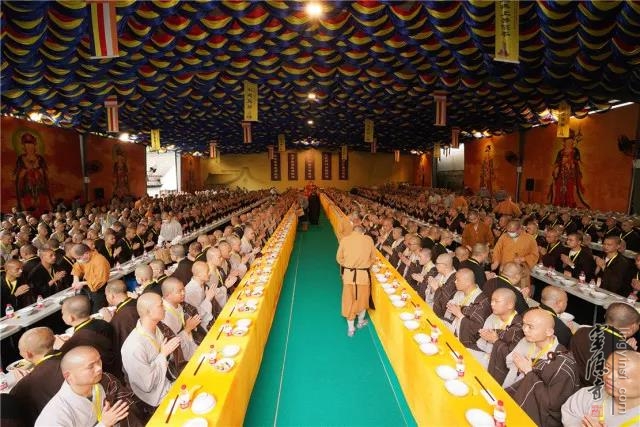 The Meal Offering Ceremony for the Thousand Monk Sangha