On the afternoon of June 24 local time, the Belt & Road Buddhist Culture Photography Exhibition and the Yunlin Tea Ceremony organized by Lingyin Temple in Hangzhou were launched at the world-renowned Simon Fraser University in Vancouver, Canada. The events were held at the invitation of Burnaby's Mayor Mr. Derek Corrigan and Hangzhou Friendship Society in Vancouver, as part of the activities of the China-Canada Year of Tourism 2018.

The Belt & Road Buddhist Culture Photography Exhibition series have been held successfully at home and abroad many times and well received. The photos on display depict the Buddhist sites, the Buddhist cultural heritage and the famous Buddhist landmarks of the Belt and Road countries. The exhibition aims to showcase the unique charm and beauty of the Buddhist culture, to illustrate the transmission process of Buddhism, and to draw a bright blueprint for the future development of Buddhism in the world.

Buddhist masters from Lingyin Temple also demonstrated the Yunlin Tea Ceremony to the overseas Chinese there so as to enrich their recreational activities and promote the Chinese traditional culture. Over 300 Chinese and foreign guests were in attendance.

At the tea ceremony, the Deputy Consul General of Consulate-General of the People's Republic of China in Vancouver Mr. Kong Weiwei delivered a speech, in which he extended his warm welcome to the Buddhist masters from China and to the Yunlin Tea Ceremony that helps to promote the Chinese traditional culture, and spoke highly of the artistic value of the photography exhibition. The Member of the Legislative Assembly of British Columbia and Minister of State for Child Care Ms. Katrina Chen, the acting mayor of Burnaby Mr. Paul McDonell, and the Burnaby City Councilor Mr. James Wang all said that the events had positive effects on the cultural diversity of the city and the China-Canada friendship.

The Abbot of Lingyin Temple Venerable Master Guangquan also delivered a speech. He conveyed his sincere greetings to the oversea Chinese in Vancouver and encouraged them to uphold the spirits of benevolence, inclusiveness and gratitude and become integrated into the local culture. He also reminded them to start with themselves and their family in the promotion of the Chinese traditional culture in a foreign country.


At the tea ceremony
The Deputy Consul General of Consulate-General of the People's Republic of China in Vancouver Mr. Kong Weiwei delivering a speech
The Member of the Legislative Assembly of British Columbia and Minister of State for Child Care Ms. Katrina Chen delivering a speech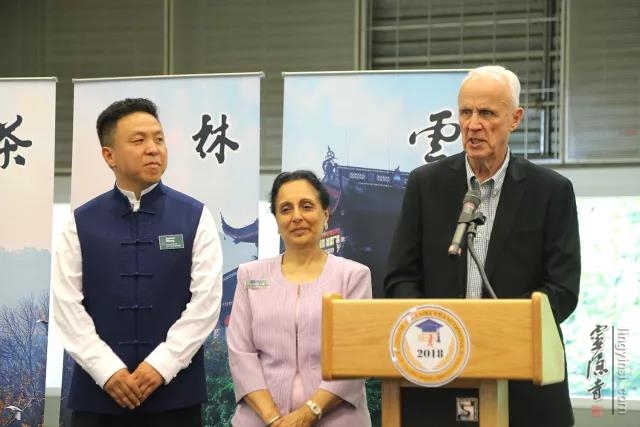 The acting mayor of Burnaby Mr. Paul McDonell and the Burnaby City Councilor Mr. James Wang delivering a speech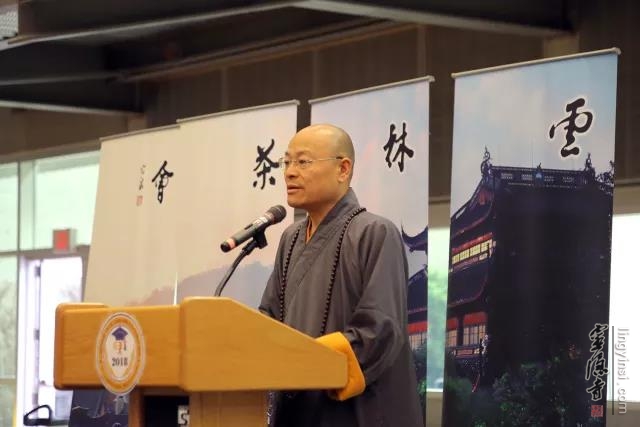 The Abbot of Lingyin Temple Venerable Master Guangquan delivering a speech