On July 8 (the sixth day of the sixth Chinese lunar month), 2019, the Abbot of Lingyin Temple in Hangzhou Venerable Master Guangquan led a group of over five hundred people on a pilgrimage to Putuo Mountain, which is the Bodhimanda (way place) of Guanyin (Avalokiteshvara) Bodhisattva. The attendees, including the Lingyin Sangha, Yunlin Volunteers of Lingyin Temple and Buddhist believers from Hangzhou, Ningbo, Taizhou, Jinhua, Shanghai, Jiangsu Province and other places, all followed the Buddhist ritual of bowing to the ground in a full prostration every three steps.

The massive group set out from the memorial archway near the wharf of Putuo Mountain at 8:00 a.m. and bowed to the ground along the ancient incense way—Miao-Zhuang-Yan Road towards the destination. Miao-Zhuang-Yan Road has been the main road of Putuo Mountain for people to offer incense for the pilgrimage since ancient time. It is a 3800-meter long ancient way, starting from Duangu Pier, passing through Baihua Temple, Zhengqu Pavilion, Sansheng Hall and Baihua Mountain, and ending at the memorial archway of Puji Temple. The pilgrimage team solemnly and refreshingly marched towards the destination, extending as long as hundreds of meters. Passers-by along the road all showed great respect and admiration as they saw the pilgrimage team.

In order to ensure that the pilgrimage is successfully accomplished, the Lingyin Sangha and lay Buddhists prepared water and first aid medicines for heatstroke prevention for the pilgrimage team. At about 11:00 a.m., the massive group arrived at the destination — the Yuantong Hall of Puji Temple, where they returned merits to the general public by praying for blessings. This marked the successful end of the pilgrimage trip.
The massive group bowing to the ground in a full prostration every three steps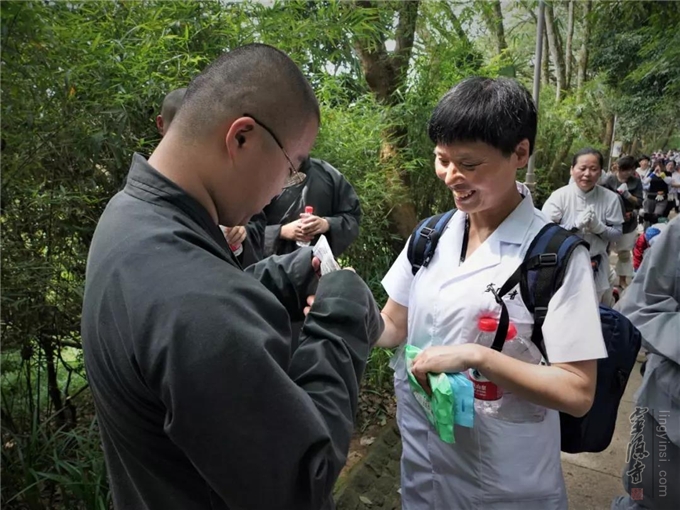 Buddhist masters and volunteers in logistical support

Returning the merits at the Yuantong Hall of Puji Temple