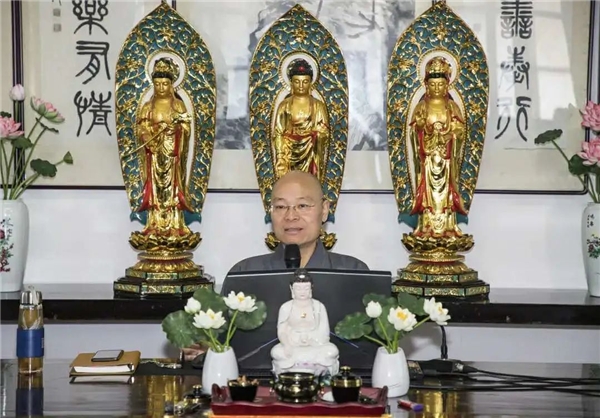 On October 23, 2020, Venerable Master Guangquan, the Vice-Chairman of Zhejiang Buddhist Association and Abbot of Lingyin Temple in Hangzhou, was invited to deliver a lecture entitled "A Talk on the Sinicization of Buddhism" as part of Jue Yuan Lecture Series organized by Zhejiang Buddhist Association. Venerable Master Guangquan gave a detailed introduction to the Sinicization processes of Buddhism in ancient and modern times as well as his vision on the directions for the Sinicization of Buddhism in modern China. In his lecture, Venerable Master Guangquan stated that the Buddhist communities should uphold justice and abide by the law while resisting commercialization and keeping up with the times in the promotion of Buddhism with Chinese characteristics.
According to Venerable Master Guangquan, Buddhism and Chinese culture have been closely integrated with each other in various aspects since Buddhism was introduced into China from India through the Western Regions during the Han dynasties. The impact of Buddhism on Chinese culture can be seen in Chinse philosophies, religions, ethics, literature, calligraphy, painting, martial arts, architecture and folk customs in various degrees. The Sinicization of Buddhism not only indicates the adjustment ability of Buddhism in foreign cultures, but also exemplifies the wisdom and inclusiveness of the Chinese civilization for alient cultures.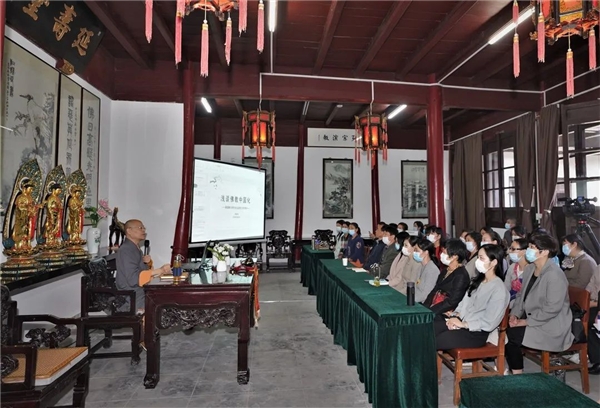 The Sinicization of Buddhism symbolizes the road to development, added Venerable Master Guangquan. It has been proved by history that we should adhere to the Sinicization of Buddhism, which has yielded fruitful outcomes and rich experiences for the development of religions in China.
As pointed out by Venerable Master Guangquan, Buddhism is now confronted with both opportunities and challenges in modern times. Only by actively adapting to the social development and being dedicated to public services in the spirit of altruism can Buddhism become a good religion, do good to the general public and contribute to the continuous development of Buddhism.
It is learned that more lectures in this series will be soon organized by Zhejiang Buddhist Association.