On June 25, 2021, the Abbot of Lingyin Temple in Hangzhou Venerable Guangquan attended the closing ceremony of the first training course for Buddhist teaching staff in Zhejiang Province and delivered a speech titled "Temple Management Under Digital Thinking". The attendees of the ceremony also included the Director of Division One of the Ethnic and Religious Affairs Committee of Zhejiang Province Lou Jiantao, the Deputy Director of the United Front Work Department of the Fenghua District Party Committee and Director of the Ethnic and Religious Affairs Committee of Fenghua District Fan Yinjun, the President of Zhejiang Buddhist Association Venerable Master Yizang, and the Secretary-General of Zhejiang Buddhist Association Jin Xingxiang.
Venerable Master Guangquan said these in his speech that the awareness of using digital management is essential to Buddhism digital empowerment. It is important for the Buddhist community to understand the significance of digital Buddhism in the digital age and lay equal emphasis on the top-down design and bottom-up management of Buddhism. Development plans should be formulated based on the characteristics of Buddhist groups, temples and academies. By analyzing data, problems can be identified and solutions can be achieved more easily and efficiently. To promote Buddhism in the modern time, the Buddhist community should grasp the essence of city digital management system and benefit from the digital empowerment in the management of Buddhism.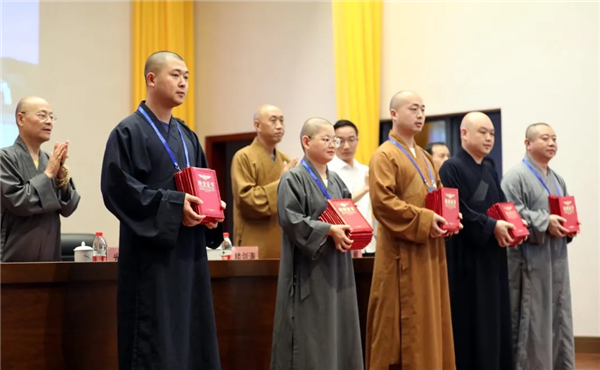 Venerable Master Guangquan also emphasized that digitization is the future of human society and it is also a double-edged sword. Whether it is beneficial or not, it is up to the person who owns the sword. National legislation and ethical guidelines are key to digital management. The Buddhist community should learn how to make good use of modern Internet technologies in the promotion of the Buddhist culture and ethics. It will be a good demonstration of how science and technology can be used for altruism for human society.