On July 11, 2021, the 13th Yunlin Cup Three-Player Weiqi Tournament was successfully closed after a two-day competition in the lotus blooming season at Lingyin Temple in Hangzhou. The theme of this Weiqi tournament is "1000 suns of wisdom and the artistry of Weiqi".
The "1000 suns of wisdom" refer to the 1000 present Buddhas of the bhadrakalpa (our present world period in Hindu and Buddhist cosmology). Gautama Buddha is the fourth and present Buddha of the bhadrakalpa. As said in the sutras, everyone has Buddha nature and everyone has the potential to achieve Buddhahood. So "1000 present Buddhas" also refer to all of the participants and staff of the Weiqi competition.

The monastic supervisor of Lingyin Temple Master Jiefa delivered a speech
on behalf of the Abbot Venerable Master Guangquan.
The Chairman of Chinese Weiqi Association Lin Jianchao also delivered a speech.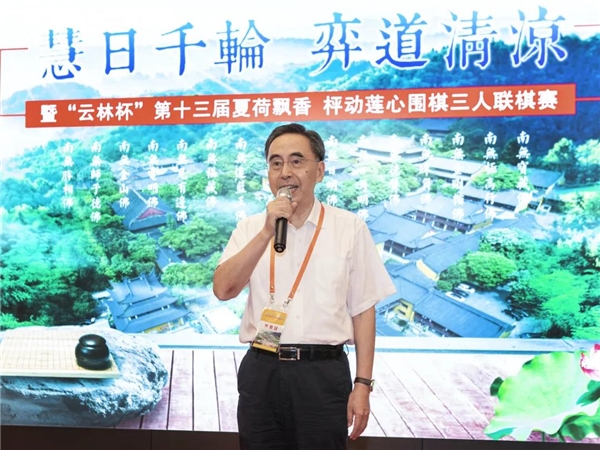 The Member of the Standing Committee of Chinese People's Political Consultative Conference
and Director of the Committee for Liaison with Hong Kong, Macao, Taiwan and Overseas Chinese
Zhu Xiaodan announced the start of the Weiqi tournament
The artistry of Weiqi is extensive and profound. In a world of black and white, wisdom of life can be seen. As Buddhism develops, Weiqi has become an important and unique part of the Buddhist culture.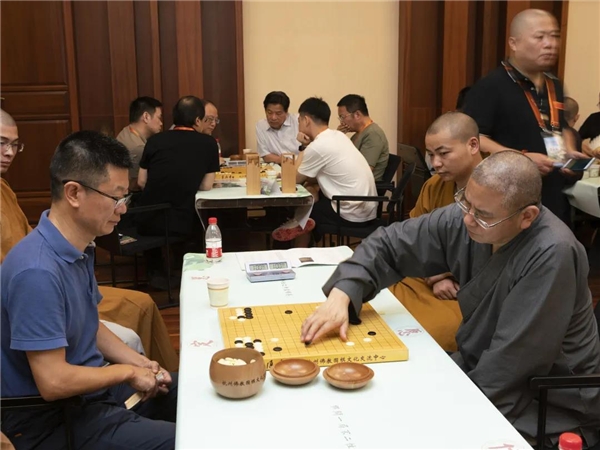 Emperor Liangwu of the Southern Dynasties was a true believer of Buddhism, who introduced the game of Weiqi to Buddhist temples. Since then, Weiqi became a popular game among Buddhist monks, who often played the game while studying Buddhism. Eminent monks, such as Master Kumarajiva, Master Yixing and Master Daoji, also spoke highly of the positive influence of Weiqi on the Buddhist practice of monks. The artistry of Weiqi was integrated into the Buddhist culture, acting as an essential part of it.
Since 2009, Lingyin Temple in Hangzhou has been actively promoting the Weiqi-Chan culture by organizing Weiqi lessons and competitions. It has even established Weiqi teams among Buddhist monks to promote the game of Weiqi and the culture of Buddhism. In this way, the Weiqi-Chan culture has spread with vigor in the modern society.
The 13th Yunlin Cup Three-Player Weiqi Tournament is a traditional event held by Lingyin Temple. The tournament aims to provide opportunities for Weiqi players to compete with and learn from each other and to display the attractive essence of the Chinese Weiqi culture. After four rounds of games among the 64 players from 16 Weiqi teams, the Nan Wu Ji Gao Xing team won the first prize.