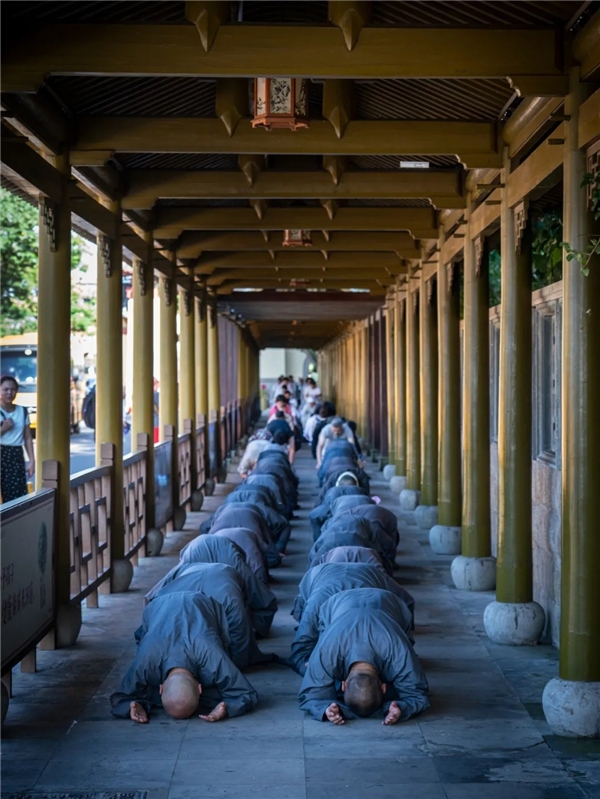 On July 15, 2021 (the sixth day of the sixth month in Chinese lunar calendar), the Abbot of Lingyin Temple in Hangzhou, Venerable Master Guangquan led the Lingyin Sangha and lay Buddhists to Putuo Shan for pilgrimage. Putuo Shan is the Bodhimanda (way place) of Guanyin (Avalokiteshvara) Bodhisattva. They followed the Buddhist ritual of bowing to the ground in a full prostration every three steps.
At 8:00 a.m., the group set off from the memorial archway near the wharf of Putuo Shan and bowed to the ground along the ancient incense way—Miao-Zhuang-Yan Road towards the destination.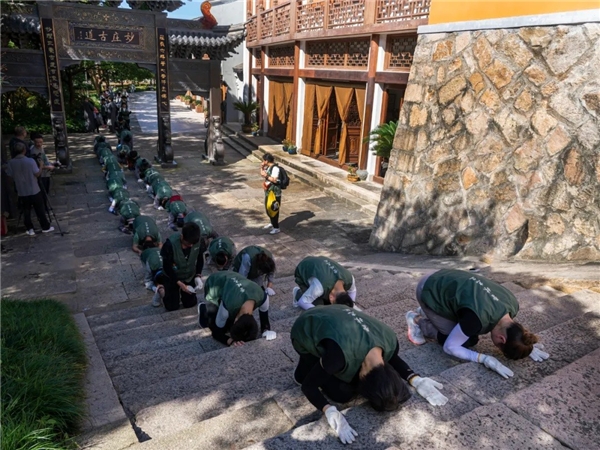 Miao-Zhuang-Yan Road has been the main road of Putuo Shan for people to offer incense for pilgrimage since ancient times. It is a 3800-meter long ancient way, starting from Duangu Pier, passing through Baihua Temple, Zhengqu Pavilion, Sansheng Hall and Baihua Shan and ending at the memorial archway of Puji Temple.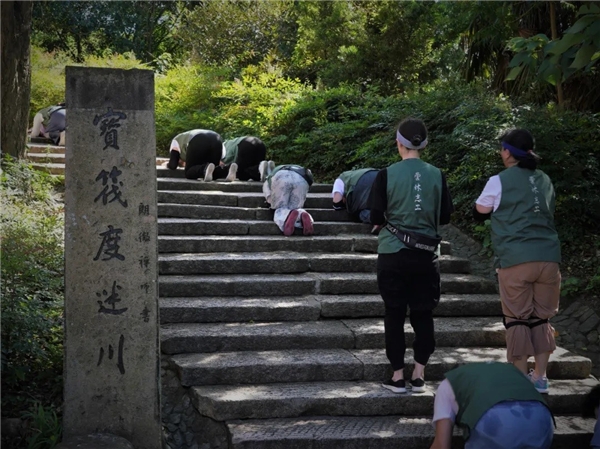 It was a hot day in midsummer with a sizzling heat wave, but the pilgrimage team still solemnly and refreshingly marched towards the destination, showing a strong will and vow power, as if they were heading towards the enormous benevolence and wisdom of Guanyin Bodhisattva.
The team was marching towards the destination in a hundreds-of-meter long line. Passers-by along the road all showed great respect and admiration as they saw the pilgrimage team. With much Dharma bliss in the mind, some even joined the team.
The Yunlin Volunteers of Lingyin Temple prepared water and first aid medicines for heatstroke prevention for the pilgrimage team. They also made sure no rubbish be left along the way. Thanks to their work hard, the whole trip went smoothly in order and left a good impression to the public.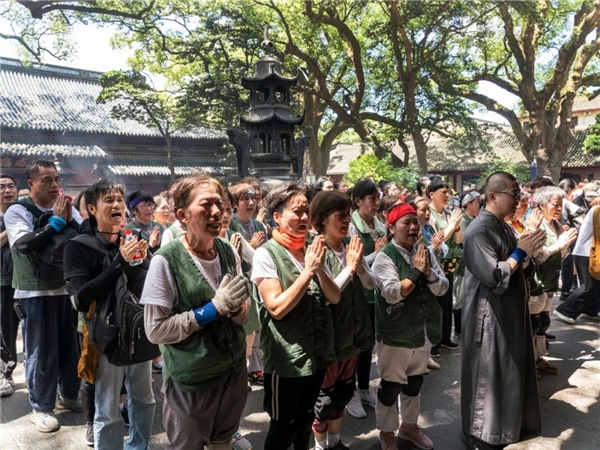 At around 11:00 a.m., the team arrived at the destination — the Yuantong Hall of Puji Temple where they almost jumped for joy despite tiredness and sweat. Some even shed tears for they were greatly moved by the Dharma bliss in their mind.
As if Guanyin Bodhisattva was kindly gazing at them to see them off, the team went on their return trip. They said that they would come again the next year to pay respect to Guanyin Bodhisattva for merits and blessings.