To combat the COVID-19 outbreak in Hangzhou, Ningbo and Shaoxing, Lingyin Temple in Hangzhou made a donation of 5 million RMB to the Zhejiang Provincial Charity Federation on December 20, 2021.
The Abbot of Lingyin Temple Venerable Master Guangquan expressed his respect and gratitude to all workers on the front lines of the COVID-19 crisis. The outbreak in the three cities since early December has pulled at the heartstrings of the Lingyin Sangha as well as all citizens in Zhejiang, said Venerable Master Guangquan. Buddhism is characterized by its benevolence and empathy with all sentient beings. Buddhist temples should undertake the social responsibilities and serve the society for the benefits of people. For this purpose, Lingyin Temple donated 5 million RMB and worked closely with the government and the public in the fight against COVID-19. If all parties unite and help each other, difficulties shall be overcome.
The Chairman of the Zhejiang Provincial Charity Federation Chen Jiayuan spoke highly of the donation and expressed his gratitude and appreciation to Lingyin Temple for its sense of social responsibility and public morals. He also mentioned that Lingyin Temple, as an ancient Buddhist Temple in Hangzhou with a long history, makes donations for charity each year to fulfill its social responsibility. In the critical period of combating COVID-19, Lingyin Temple has actively cooperated with the government and made great contributions. The donation of Lingyin Temple is the largest contribution that the Charity Federation has received during this outbreak.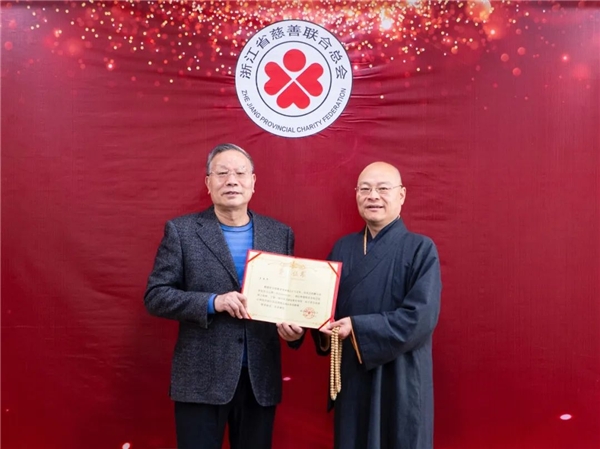 According to Chairman Chen, this donation will be specially designated to help with the resumption of work and production after the containment of the outbreak, to give subsidies to voluntary workers on the front lines, and to help citizens with financial difficulties due to the outbreak in Hangzhou, Ningbo and Shaoxing.