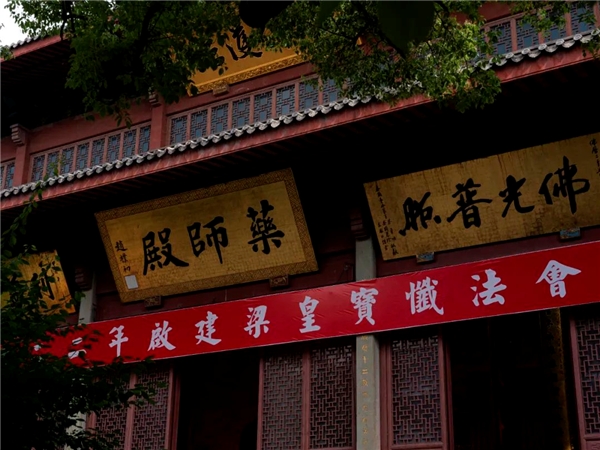 On the early morning of May 18, 2022 (the eighteenth day of the fourth month in Chinese lunar calendar), Emperor Liang Repentance Service started at Lingyin Temple in Hangzhou.
As the Buddhist chanting began at the Medicine Buddha Hall at 8:00 am, the Lingyin Sangha gathered in front of the Medicine Buddha statue. The host of the ceremony offered burning incense and went around the hall, purifying the ritual altar with willow water and chanting Buddhist mantras. All the other Buddhist masters chanted together piously and solemnly.
Due to pandemic prevention and control, no Buddhist believers were invited and only Buddhist masters of Lingyin Temple participated in the Dharma service. During the whole ceremony, masks were worn and social distance maintained.
Emperor Liang Wudi was the first emperor of the Liang Dynasty and he had The Repentance Sutra of Emperor Liang (originally named as Repentance Dharma of Kindness and Compassion in the Bodhimanda) compiled for chanting in order to salvage his wife Empress Chi from suffering. Emperor Liang invited Chan Master Baozhi and other honorable monks to write a repentance of thirty scrolls for the empress in accordance with the disciplines of Buddhist sutras. At the repentance service, Buddhist masters usually guide the participants to perform the rites including taking refuge in the Three Jewels, eliminating doubts, repentance, dissolving enmities, paying homage to Buddha, gratitude to all beings, dedication, and transmission of merits so as to repent our past non-virtuous actions, develop a virtuous mind and attain supreme enlightenment. Shortly after the repentance service, Empress Chi was able to be reborn as a heavenly being. The repentance was shortened to ten scrolls by eminent monks afterwards and passed down through generations thereafter as the most popular repentance text. The repentance service is for devotees to pray for disaster relief and auspiciousness.