This year, the birthday of Buddhist protector Śakra (Śakro devānām indraḥ), also known as Dìshìtiān or Shìtí Huányīn in Chinese, falls on January 30, 2023 (the ninth day of the first lunar month of the Chinese Calendar). The Chinese New Year Offerings to Buddhas & Celestial Guardians Dharma Service was conducted at Lingyin Temple in Hangzhou, upholding Buddhism's spirit as well as praying for the protection of heavenly deities, a prosperous country and well-being for the people.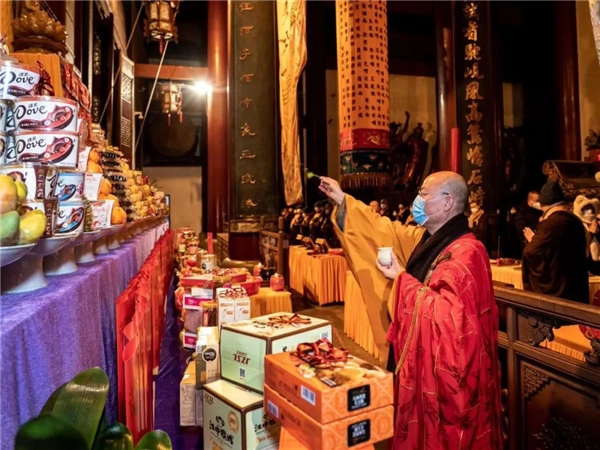 At 4:00 in the early morning, the offering Dharma service started as the Lingyin Sangha gathered at the Mahavira Hall in a majestic and solemn manner. The Abbot of Lingyin Temple Venerable Master Guangquan offered incense and chanted mantra of purification, sprinkling purifying water around the altar.
As the Mahavira Hall was surrounded by Buddhist music and chanting, all the participants at the ceremony recited sutras and chanted mantras, inviting the Triple Gem and heavenly guardians to receive offerings and generate immeasurable merits in Buddhism's spirit. They also prayed that all merits would be transferred to everyone so that all may enjoy endless blessings, longevity and well-being. May good be rewarded with good, and evil with evil. May there be peace and development around the world.