On the morning of February 20, the 2023 opening ceremony for the spring semester and the 2022 commencement ceremony were held at the Dharma Hall of Fayun Campus, Hangzhou Buddhist Academy.
At the event, the Deputy President Venerable Master Huiren announced the winners of Outstanding Progress Award, Volunteer Service Award, Excellent Student Scholarship and Excellent Staff Award. Special guests presented certificates of honor, certificates of graduation as well as employment contracts to the awarded students and staff. After that, the representative of excellent graduates in 2022 delivered a speech, expressing their gratitude to all the faculty of the academy.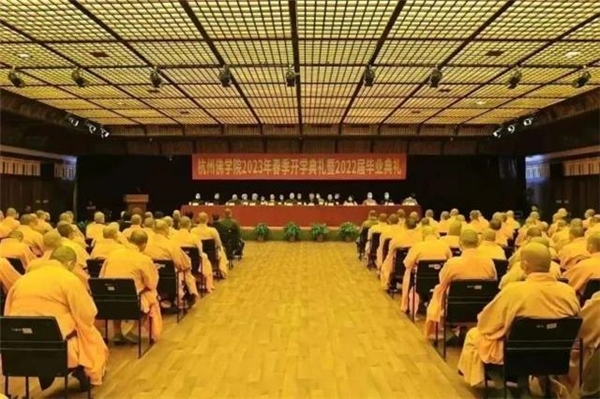 The President Venerable Master Guangquan also shared a few of his hopes with the faculty and students. First, he hoped that all members of the academy should raise their political awareness and distinguish between issues of understanding and thinking. Second, it is essential to set clear education objectives and strengthen discipline construction. Third, teacher workforce development should be enhanced and international cooperation and exchange in education should also be robustly bolstered. Fourth, great efforts must be made to cultivate Buddhist talents who are both experts in Buddhist teachings and traditional Chinese culture. Last but not least, it is important to empower the Buddhist academy with technology and intelligence and adapt to socialist modernization.
Deputy President Venerable Jiefa presiding over the opening ceremony
Deputy President Venerable Huiren announcing the winners of prizes and awards
Representatives of excellent graduates and freshmen delivering a speech
Presenting certificates of honor to winners of Excellent Student Scholarship
Presenting certificates of honor to winners of Excellent Staff Award
President Venerable Master Guangquan delivering a speech