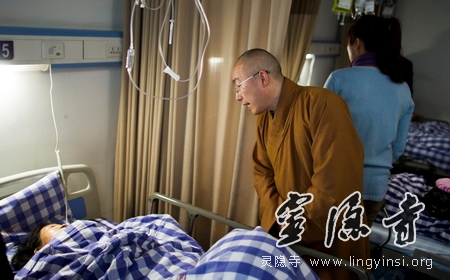 Venerable Miaohong Visiting Injured One Pilgrim

On the noon of February 18, 2013, a fully loaded coach from Changshu, Suzhou left for Lingyin Temple, but unfortunately it turned over on its side at Liangzhu, Hangzhou and some pilgrims were injured.
At the news of the accident, Master Guangquan, the abbot of Lingyin Temple, were greatly concerned and worried. He made phone calls out of town and repeatedly urged the venerables of the temple to go to see the injured pilgrims in the hospital.
At half past four in the afternoon, Ven. Miaohong, one supervisor of the temple, together with several venerables of the temple, went to The Second People's Hospital in Hangzhou and visited over 20 injured people.
Ven. Miaohong Making Enquiries about the Status of the Injured Passengers
The injured passengers were so moved that the venerables of Lingyin Temple came to visit them in the hospital. When Ven. Miaohong asked whether they were all right and told them to take good care, Qin Liying on the bed couldn't help but cry and thanked for the best wishes from Lingyin venerables.
Venerables were also considerate enough to bring fruits to the injured passengers. Hearing that two more seriously injured pilgrims were staying in another hospital, Ven. Miaohong gave his contact information to the leader of the visiting group and said that all venerables of the Temple would be always ready to provide any help needed. He also conveyed the best wishes for the injured laymen on behalf of Lingyin Temple.