Ven. Master Guangquan was presented religious title by Burmese government
22-28 March, 2013, delegation of Buddhist Association of China visited Burma in response to the invitation by Burmese Ministry of Religious Affairs. Ven. Master Guangquan, as Abbot of Lingyin Temple, Deputy Head of Zhejiang Buddhist Association and Head of Hangzhou Buddhist Association, was part of the delegation and was awarded the title of "Aggamaha Saddhammajotikadhaja" in Naypyidaw, national capital of Burma. During the stay in Burma, the delegation attended the awarding ceremony of Honorable Medal of Religion hosted by Burmese government, almsgiving ceremony hosted by the Burmese president, sutra chanting ceremony held at Uppatasanti Pagoda in Naypyidaw, almsgiving ceremonies held by Burmese from all walks of life. The delegation also visited various other cities such as Yangon and Mandalay. The delegation was lead by Ven. Master Mingsheng, Deputy head of Buddhist Association of China, and include such important figures as Venerable Zhaodengdai, Head of Buddhist Association of Ruili, Yunnan Province.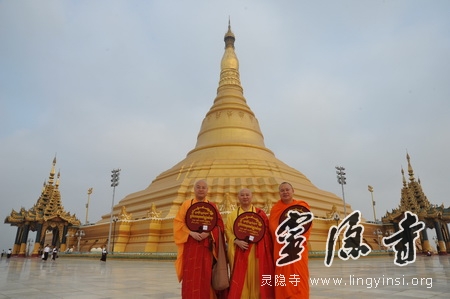 Ven. Master Guangquan (left) in front of the golden Uppatasanti Pagoda in Burmese national capital Naypyidaw
The awarding ceremony was held on the morning of 26 March by the Burmese government at the Mahasasanabeikman Auditorium, which sits right next to the Uppatasanti Pagoda (Golden Pagoda of Naypyidaw) in Naypyidaw. Over 200 vandana and sthaviras from Burma, China, Sri Lanka, Nepal, Lao, Cambodia, United States and United Kingdom received medals of religion for the year of 2013. Apart from local Buddhist figures from Burma, 25 non-Burmese Buddhist figures including Venerable Master Guangquan and Venerable Master Mingsheng. Burmese president Thein Sein, Deputy President Sai Mauk Kham, Minister of Religious Affair Hsan Sint, alongside around two thousand other attendants, were present at the awarding ceremony. Apart from the many Chinese Buddhist figures awarded, Theravada Buddhists received honourable medals for the first time, which is another significant feature for the ceremony this year.
Ven. Master Guangquan receiving worship from Burmese President Thein Sein
Burmese believers offering alms to Chinese vandana
Burmese government has been awarding government medals of religion to Buddhist leaders from all over the world since 2009 to promote the development and expansion of Buddhism. Ven. Master Yicheng, who was then the Head of Buddhist Association of China, was awarded the title of "Aggamaha Saddhammajotikadhaja" in 2009 as the first non-Burmese Buddhist leader to receive this honour. Besides, Venerable Master Chuanyin, the current Head of Buddhist Association of China and Ven. Master Changzang, Deputy Secretary of Buddhist Association of China and Abbot of Lingguang Temple of Beijing have been awarded the title of "Aggamaha Saddhammajotikadhaja", and Ven. Master Yinle, Deputy Secretary of Buddhist Association of China and Abbot of Baima Temple of Luoyang, Henan Province the title of "胜大正法放光幢".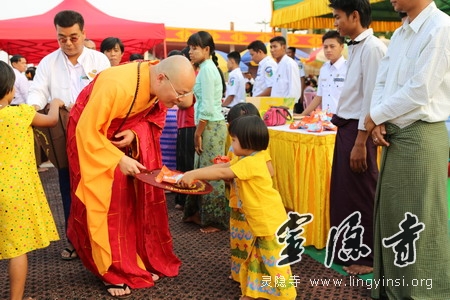 Ven. Master Guangquan smiling mercifully while receiving worship
In recent years, Chinese and Burmese Buddhists have brought their communication and exchange into greater depth with the join effort of governments and Buddhist communities of both countries. Following the long-lasting friendship between China and Burma, which has been blessed by Buddhist glory, the Chinese Buddhist community has received visits from Burmese president Thein Sein in May 2011 and September 2012, for his worship to tooth sarira enshrined in Lingguang Temple, Beijing and to finger-bone sarira in Famen Temple in Fufeng, Shaanxi Province, respectively. The Chinese Buddhist community also received Burmese Ministers of Religious Affairs, who were attending religious occasions such as the consecration ceremony for the restoration of tooth sarira stupa in Lingguang Temple in May 2011 and the ground-breaking ceremony for the Burmese-style golden pagoda at Baima Temple in Luoyang in April 2012. The tooth sarira preserved in Lingguang Temple was brought to Burma to receive worship for the fourth time between 6 November and 24 December 2011. Over four million Burmese believers from all walks of life worshipped the precious tooth sarira in Naypyidaw, Yangon and Mandalay, through which the communication between Buddhist communities in China and Burma was deepened, the friendship between Burmese and Chinese people strengthened, and the tale of bilateral Buddhist exchange widespread.