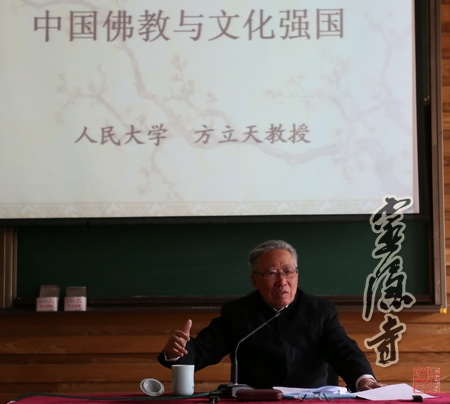 Professor Fang Litian from Renmin University coming to speak at Yunlin Institute
On the morning of 3 April 2013, Yunlin Institute of Lingyin Temple held the first talk on Buddhist culture. Invited by Abbot Ven. Master Guangquan, Professor Fang Litian from Renmin University in Beijing, a leading authority on philosophy and Buddhism, came all the way to Hangzhou at eighty years of age to speak for Sangha members and lay disciples about Chinese Buddhism and Cultural Power. Ven. Yankong, one Supervisor of Lingyin Temple, chaired the talk and addressed a welcoming note to Professor Fang.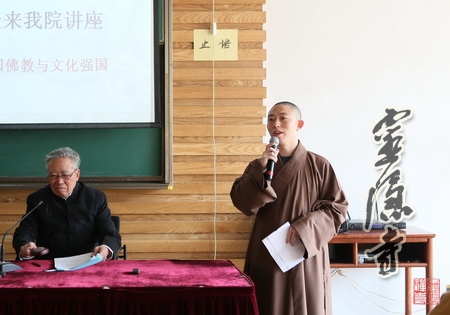 Ven. Yankong chairing the talk
Professor Fang first spoke highly of cultural lecture series organised by Yunlin Institute, Lingyin Temple, and recognised them as an important step of cultural construction of Hangzhou Buddhism and a cultural imprint in the development history of Lingyin Temple and Hangzhou Buddhism. He then elaborated on the critical role that the Buddhist culture could play in the construction of socialist cultural power from five aspects.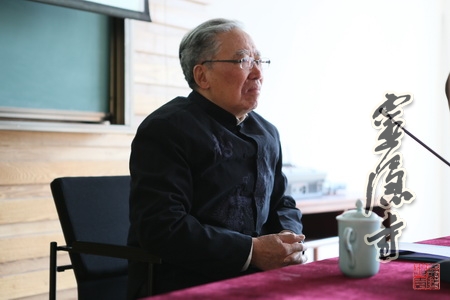 According to Professor Fang Litian, the essence of Buddhist thoughts can be beneficial for the construction of socialist core value system; the virtues encouraged by Buddhist traditions can enhance the sense of morality of socialist citizens; public, cultural and charitable events organised by Buddhist institutions can enrich the spiritual life of the people; psychological consoling and dredge can foster ethical social conduct; Buddhism as an important facet of cultural exchange can promote Chinese culture on the international stage in the long term.
Live at the talk "Chinese Buddhism and construction of cultural power"
Throughout the two-hour lecture, Professor Fang, with his sonorous voice and profound scholarship, demonstrated to all present Buddhists a living academic authority and prominent religious figure who is devoted to the building of socialist cultural power with Buddhist culture.
.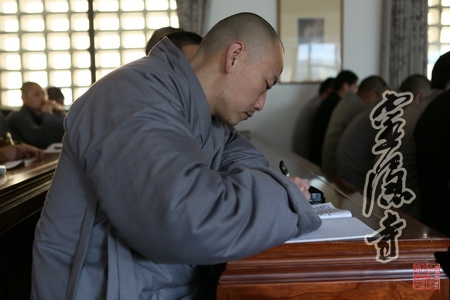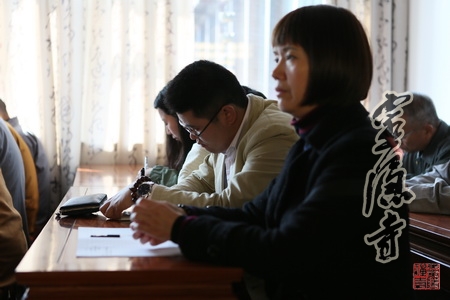 Audiences taking notes carefully
Yunlin Institute, established on 18 August 2012, is a critical part of the Buddhist Culture Project of Lingyin Temple, and is currently under the management of Ven. Yankong, one of the temple's supervisors. Soon afterwards, the Institute organised the first academic event in the history of Lingyin Temple, Seminar on Lingyin Temple and Chinese Buddhism, and Commemoration of the 880th Anniversary of the Birth of Master Songyuan Chongyue. Professor Fang's talk on Chinese Buddhism and Cultural Power, as the first public talk on Buddhist culture organised by Yunlin Temple, turns a new page in the history of the construction of Buddhist culture promoted by Lingyin Temple.