Lingyin Temple Holds a Praying and Donation Ceremony for Quake-Hit Ya'an
On April 24th, 2013, Lingyin Temple held a praying and donation ceremony for the quake-hit Lushan county of Ya'an city in its Mahavira Hall, in an effort to pray for people of the disaster area, recite sutras for the deceased in quake-hit Ya'an and raise funds for earthquake relief work. This ceremony, hosted by Venerable Guangquan of Lingyin Temple, attracted over 200 Theravada vnerables of Hangzhou Buddhist circle and numerous tourists as well as Buddhists. .Compassionately, Venerable Guangquan took the lead in putting money into the collection box placed in front of the Mahavira Hall. Immediately after Venerable Guangquan's donation, Venerables, Buddhists and tourists all enthusiastically and generously donated their money, showing their love and care to people in quake-hit Ya'an. As much as 64,800 yuan was raised on that day.
On behalf of Lingyin Temple, Venerable Guangquan would donate 1 million yuan to the people of quake-hit Ya'an, because in Venerable Guangquan's words, what the triad of the Buddha, dhama and sangha had received was collected from the benefactors and thus should be used in the interests of people. The donation of 1,064,800 yuan would be delivered immediately right down to people in quake-hit Ya'an, in the hope that it would be helpful in addressing their current difficulties.
Venerable Guangquan also stated that they would devote continuous attention to the situation in quake-hit Ya'an. In the coming birthday of Shakyamuni Buddha on May 17th (8th of the fourth month by Chinese solilunar calendar), Hangzhou Buddhist Association along with Buddhist Academy and Buddhist temples would organize the activity of "Mendicant's Pilgrimage" and all the donation collected in this activity would also be sent to people in quake-hit Ya'an.
Praying for people of disaster areas in Mahavira Hall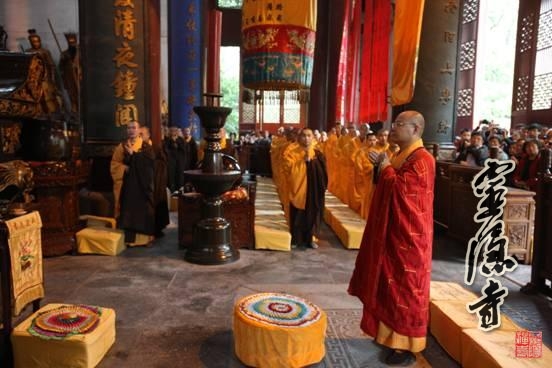 Abbot Guangquan conducting the ceremony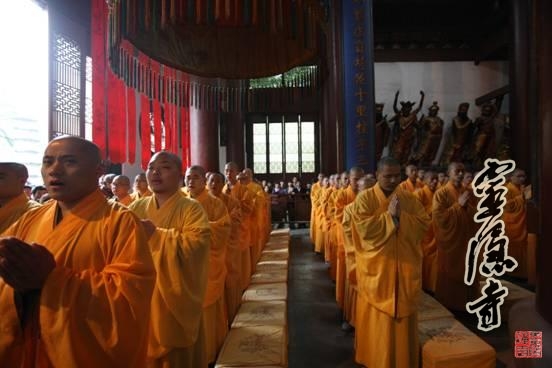 Sangha praying for the quake victims in Ya'an
Abbot Guangquan making a donation

Abbot Guangquan appealing for extending help for quake victims in Ya'an
Sangha and householders contributing to the earthquake relief work