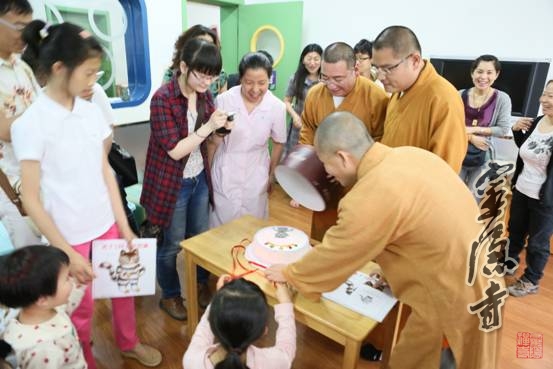 Well-wish Cake made by Venerables
June 1, 2013,when kindergarten and elementary school children were eagerly waiting for their dedicated holiday, Venerables of Linyin Temple paid a special visit along with forty-plus lay followers to the Zhejiang Provincial Rehabilitation Center where they spent the "6-1" Holiday together—International Children's Day.
At 9:00am, representing Venerables from charitable groups--such as the Lingyin Merit Charitable Foundation, Lingyin Vegetarian Restaurant, and Lingyin Library--lead lay volunteers to the children at the Provincial Rehabilitation Center and received a warm welcome from the deputy director of the rehabilitation center, Lili Zhang. Bearing toys and gifts, the group visited the Children's Special Education Department and Children's Rehabilitation Center in an effort to uplift the children's spirits on their day.
Venerables and lay volunteers unloading the van full of toys and gifts
Venerable Hengsong in discussion with deputy director Zhang and nurse staff
The group distributed necessities and treats such as milk, grains, sweets, various fruits and pastries. Daily supplies included bathing solution, skincare products, diapers, etc.. Lingyin library provided children's reading material and the Lingyin Vegetarian Restaurant specially crafted two huge cakes for the children's celebration of their day.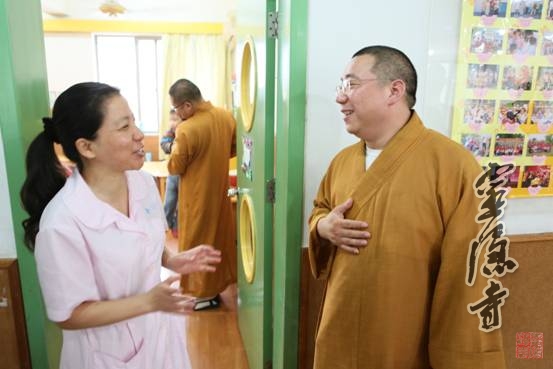 Nurse staff details facility information for Venerable Hengsong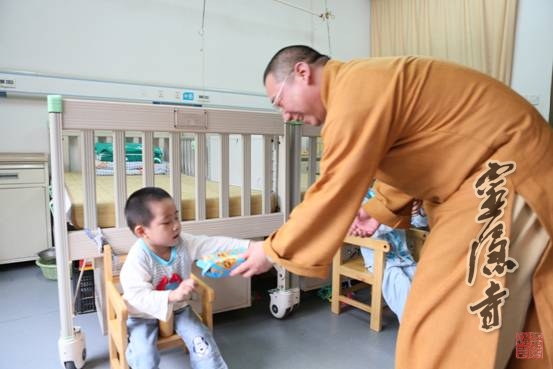 Venerable Hengsong serves up biscuit treat for toddler
In the ward of children's rehabilitation department, Venerables treated the children to cookies, played games, and read stories; the Children performed a small concert in return of the warm gesture from the Venerables and kind volunteers who came to spend International Children's Day with them. Joyous songs and music filled the room and beyond, all cannot help but to be moved by the acts on this day for both sides of the children's Rehabilitation Center. Yet, not only for all those involved, kindness was only a partial factor for a better civil environment in Hangzhou along with the partnership of less-fortunate kids on this International children's Day.
Venerable Hongzhi offering toddler to small treat
Venerable Gaoxuan distributes children's reading material
The Children's performance
Venerables, volunteers, and Children ofthe Rehabilition Center gather for a photo.
Venerables and volunteers