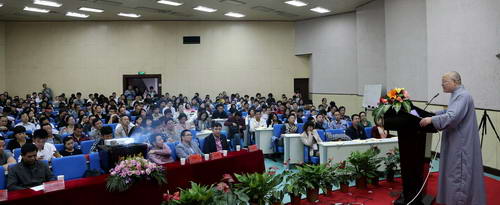 Lingyin Temple Abbot Guangquan at the grand lecture hall of
Zhejiang University's Department of Chinese Cultural Studies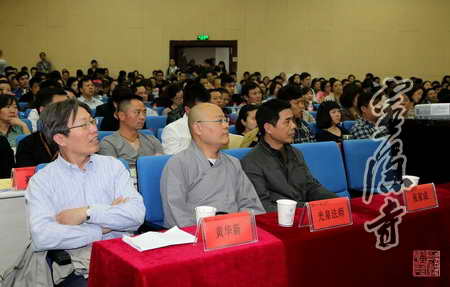 Dean of Zhejiang University School of Humanities Dr. Huang
Huaxin in attendance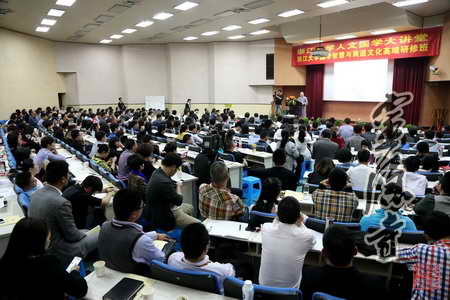 "Chan and Worldly Life" before the capacity audience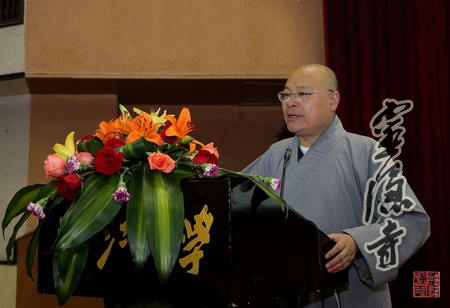 Abbot Venerable Guangquan's Dharma talk on Chan and wisdom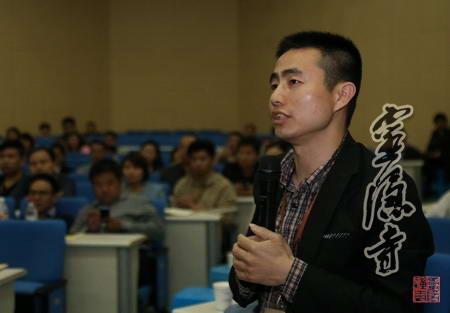 Questions and Answer segment with audience
   Abbot Venerable Guangquan in post-interview
   Group photo with faculty and organizers of event
On afternoon of April 11, 2014, before a full capacity audience at the grand lecture hall of Zhejiang University's Department of Chinese Cultural Studies at Xixi Campus, Lingyin Temple Abbot Venerable Mater Guangquan (Vice Chairperson of Zhejiang Provincial Buddhist Association, presiding Chairperson of Hangzhou Buddhist Association and Chancellor of Hangzhou Buddhist Academy) answered the invitation to deliver the first lecture of the new academic term for Zhejiang University's Executive MBA course on Strategic Management that focuses on Business ethics. The topic of the lecture, 'Chan and Worldly Life' is also an in-depth lecture of Buddhism which also provided an exceptional perspective of Chan (Zen) School Buddhism beliefs in relation to high level strategic business management.
"Chan and Worldly Life" was addressed as Dharma talk in three parts: "What is Chan?", "What is the source of Chan?"; and finally back around to "What Chan can bring to our daily lives?"
Citing Buddhist texts and quoting scriptures, Abbot Venerable master Guangquan spoke frankly with assurance to the captivated audience with Chan principles that seemingly flowed to each person like crisp spring water to alertness. With Chan in daily life, one can immerse in the wisdom of Chan, the flavor of Chan in daily life; not something to be described, but grasped intuitively. In other words, Chan in daily life is a perfect relationship with the inherent quality of Dharma and Buddha, the wisdom of Buddha.
Through simple language and vivid descriptions, Abbot Venerable Guangquan delighted the crowd in the Question and Answer segment by answering questions such as "How to allow Dhama deep within oneself?", "How to address the mortal ideal of sickness?", and "What are ways to cultivate wisdom in Children?" These are questions noticeably dear to their hearts and the interaction brought the atmosphere to the apex of this event with roaring applauds.
In the conclusion of the afternoon Chan talk, Abbot Venerable Guangquan urged everyone to apply the supreme wisdom of Chan in practical daily life. He reminded that Chan is omnipresent, and to cultivate in Chan Buddhism is to Cultivate in wisdom. As to the practical application of Chan in improving the worldly life that an individual leads in society, one shall approach this as an interaction between one's current state of being and one's heart and mind.