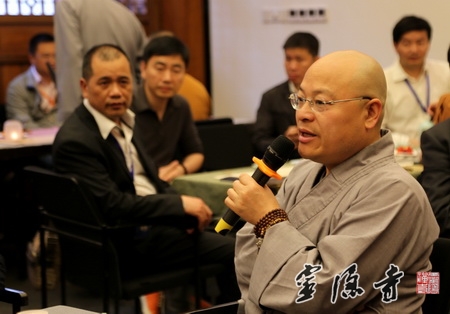 Dharma Talks with Lingyin Temple Abbot, Venerable
Master Guangquan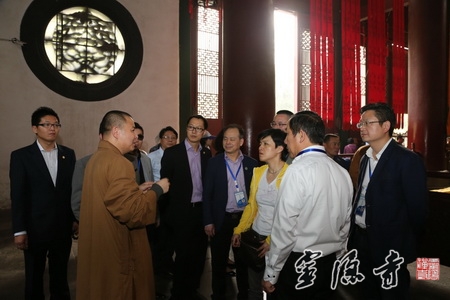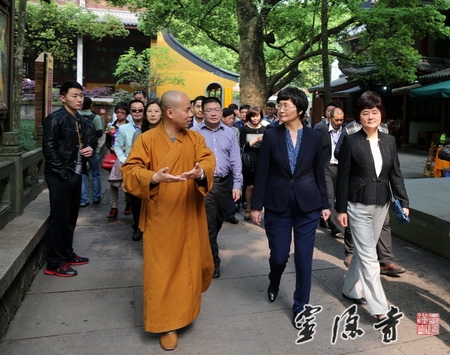 Tour of the Monastery with Venerable Huicheng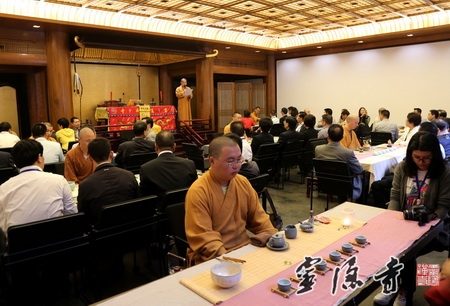 Lingyin Chan tea by Yunlin Tea Society
Sounds of tradition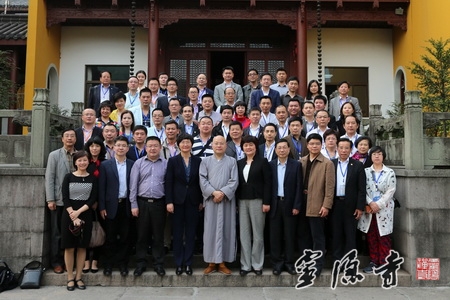 The Zhejiang Association of Overseas Chinese With Abbot Guangquan
April 17th, 2014, Lingyin Temple hosted The Zhejiang Association of Overseas Chinese with expatriate representatives from fifteen Western European countries--prominent turnout by way of France, Italy, and Spain—neatly set in the Buddhist culture of this ancient monastery.
The Chan tea ceremony began with Abbot Venerable Master Guangquan's Dharma talks "forms in which Propagating of Buddhism manifest," followed by "maintaining a still heart in an ever-changing International socio-economy."China's burgeoning international influence as a culture of five thousand years along with the ancient Buddhist culture is a glorious phenomenon surging by the day--while the overseas Chinese have long been the ambassadors.
Abbot Venerable Guangquan also shared with the group a story about the famed Japanese entrepreneur, Inamori Kazuo, highlighting his management methods that employs Chan principles coupled with traditional Chinese cultural beliefs. In building a well-rounded life and livelihood, Mr. Kazuo provides illuminating experience for all whether striving for corporate success or elevating personal character.
As anticipated, the event was a serene afternoon of Yunlin Chan Tea society's rituals, while savoring fine traditional tea, and enjoying the rich Chinese cultural essence that features Chan instrumental performances (distinctive of the Jiangnan region). However, Abbot Venerable Quangquan's Lucid Dharma Talks enveloped the crowd as traditional cultures of China and Chan Buddhism prevailed through the enlightening contrasts of existence: by hemisphere, in East meets West; by time, with the modern before the traditional; and by discipline, with religion and artform.