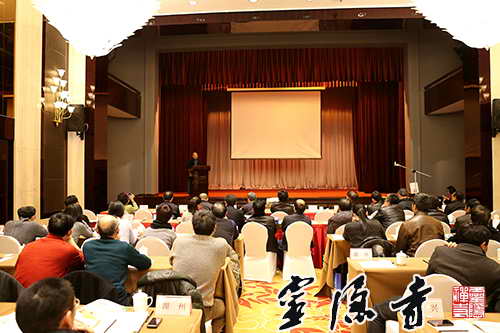 Launching Ceremony of Zhejiang Association of GO (ZAGO)
Lingyin Abbot Ven. Guangquan invited to be
the honorary consultant of Zhejiang Association of Go
Ven. Guangquan placing a ceremonial white stone in the upperleft corner
On the afternoon of 20 February, 2014,the launching ceremony of Zhejiang Association of Go (ZAGO) took place in Zhejiang Hotel at the witness of over 180 representatives of the Go community, who come from 11 cities of the province. During the event, protocol of the Association as well as the listof committee members were established. Lingyin AbbotVenerable Guangquan, who is also the Vice Chairperson of the ZhejiangBuddhist Association and Chairperson of Hangzhou BuddhistAssociation, was invited to attend the ceremony and was awarded the title ofHonarary
Consultant of ZAGO; Ms Mao Yuheng, Chief Coach at LingyinCenter of Buddhist and Go Culture, was invited to as the TechnicalConsultant.
Venerable Guangquan gave a congratulatory speech, in whichhe thanked the Go community in Zhejiang for caring andsupporting the development of Buddhist culture in Zhangzhou, and wishedZAGO a bright future under the lead of President Sun Guangming.
After the ceremony, a special live Go tournament took place.Venerable Guangquan place a ceremonial first stoneon behalf of the White after the initial move by the Black,and masterlyoccupied the upper left corner.