On the afternoon of May 22nd, 2014, the Cambodian Prime Minister Hun Sen visited Lingyin Temple and was met with a warm reception from Abbot Guangquan and the temple members.
Accompanied by Master Guangquan, Prime Minister Hun Sen visited the halls of the temple. In the Grand Hall, he burned incense and paid his respects to Sakyamuni Buddha. In the Hall of the Medicine Buddha, he observed the temple members meditating upon Huayan Sutra.
Master Guangquan held a reception for Prime Minister Hun Sen in the Liandeng Pavillion. He introduced to Prime Minister Hun Sen the long history of Lingyin Temple and southeastern Hangzhou Buddhist culture. Abbot Guangquan shared his personal journeys to Cambodia, twice—once to celebrate the Day of Vesak, held by UNESCO in Cambodia, another time for pilgrimage. The Abbot spoke of his time in Cambodia which left him with beautiful memories, especially the breathtaking Buddhist culture of Angkor Wat, and he hopes that the two countries' Buddhist communities will see more exchanges in the future.
Prime Minister Hun Sen said that Cambodia's earliest religion is Hinduism; Buddhism was introduced thereafter and continues to flourish today. The Buddhist communities in their two countries have the same roots and origins, thus he hopes that their relationship can be strengthened, and that Master Guangquan will visit Cambodia again in the future. After the meeting, Master Guangquan, on behalf of Lingyin Temple, presented Prime Minister Hun Sen with a statue of Sakyamuni Buddha.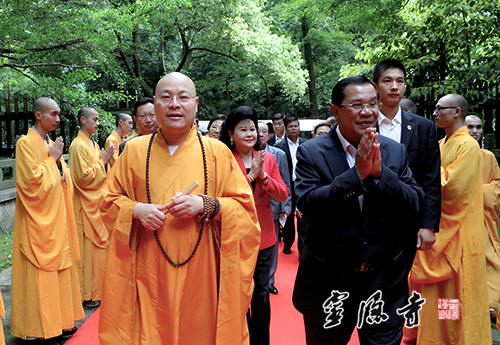 Lingyin Temple's Master Guangquan welcomes Cambodian Prime Minister Hun Sen at the gate
Master Guangquan presents the history of Lingyin Temple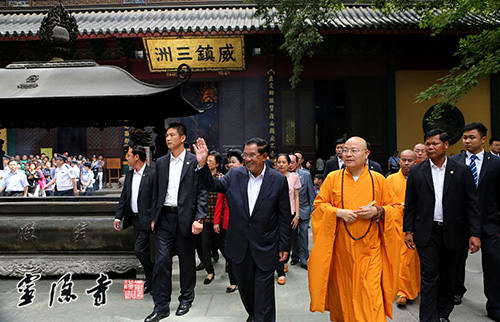 Prime Minister Hun Sen waves to the temple guests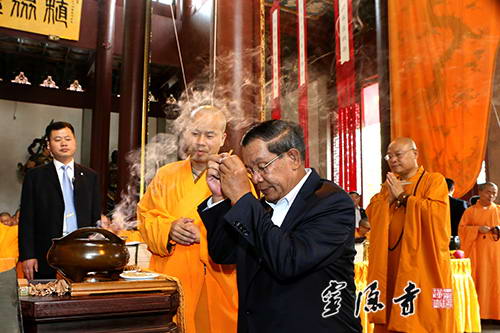 Prime Minister Hun Sen makes incense offering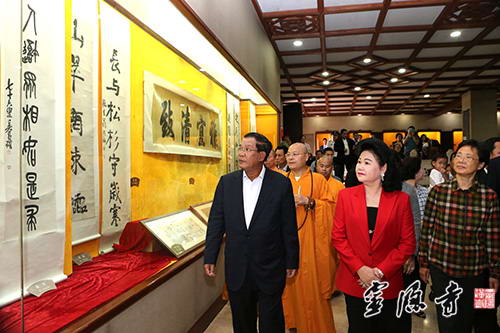 Prime Minister Hun Sen visits Lingyin Temple's Heritage Museum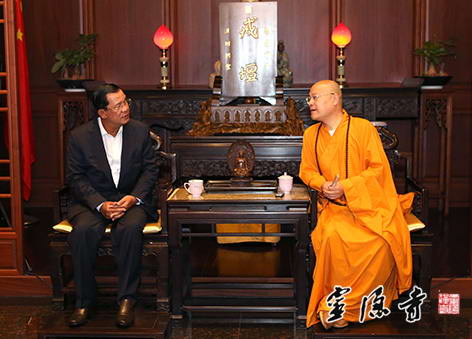 Master Guangquan holds a reception for Prime Minister Hun Sen at
Liandeng Pavillion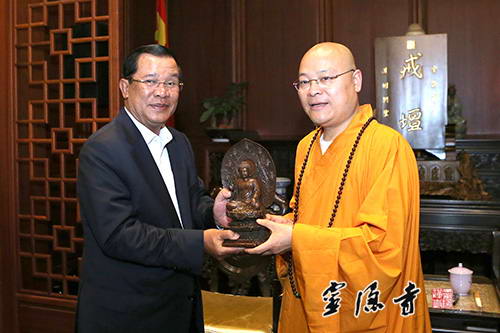 Master Guangquan presents Prime Minister Hun Sen with a bronze statue of Sakyamuni Buddha