June 1st, 2014—Lingyin Temple's Supervising Keeper Ven. Yiguang, on behalf of Lingyin Temple, lead a Lingyin goodwill group to Zhejiang Civil Affairs Hospital Recovery Center to visit the children there and to celebrate International Children's Day with them.
At 9:00 AM, Masters Yiguang, Changfa, Zhengqin, Zhizhong, Zhifa, and volunteers arrived at the Recovery Center and visited the children in the Recovery Ward and the Special Education Ward. They were received with a warm welcome from the center's deputy director Zhang Lili, accompanied by the center's caregivers and teachers. To celebrate the holiday, Lingyin's group brought fruit, chairs, strollers, and other daily necessities and toys for the children.
Upon seeing the delicious food, fun toys, and new clothes, the children were bursting with joy, reaching out and shouting, "I want some! I want some!" The Venerable Master passing out the goodies bent down, patiently telling the children "Don't worry, everyone will get something." A boy wearing a blue, short-sleeved shirt stretched out his arms and yelled, "Hug! Hug!" Master Yiguang bent over and gave him a hug, after which the boy opened his arms again, asking to hug the other masters. In the end, all of the masters gave him warm hugs. The volunteers had also prepared toys, snacks, and other gifts to give to all the children in hopes of keeping their spirits high for their day.
The children were eating fruit as the caregivers told them to say "thank you" to the Lingyin Temple masters and the kind volunteers who came to celebrate International Children's Day with them--an atmosphere of warmth and feel of a big family.
Also, previously, on the afternoon of May 30th, Lingyin Temple's "Yunlin Public Welfare Foundation" bearing fruits, donations, and compassionate spirits, spent the afternoon with Hangzhou Xiacheng District's Carnation Recovery Center for children, to give the children there an early celebration of International Children's Day.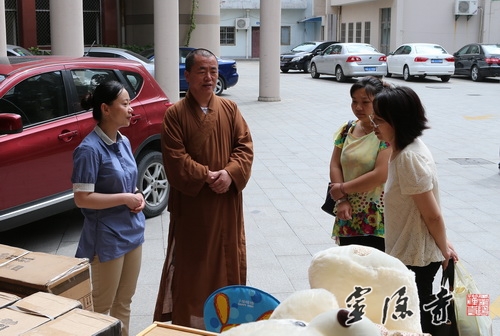 Lingyin Temple's superintendent Master Yiguang talks with Provincial Recovery Center's teachers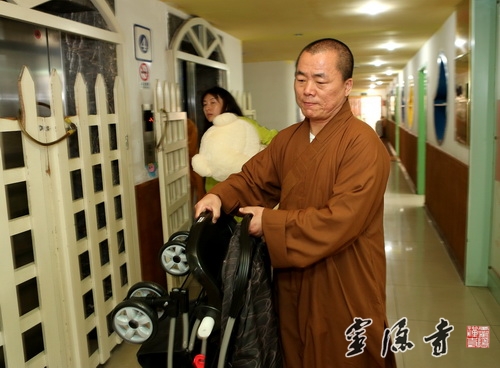 Master Yiguang carries a stroller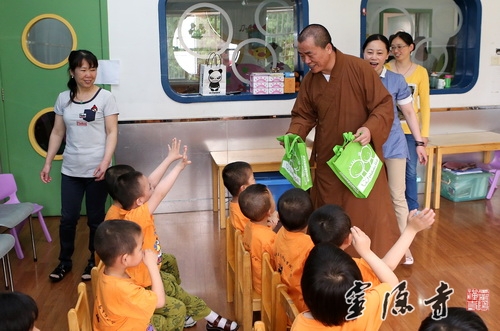 Children happily shout, "I want some! I want some!"
Masters passing out gifts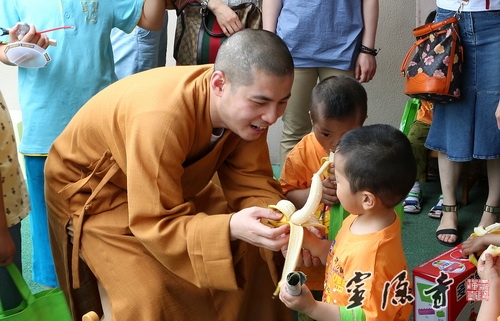 Master Zhengqin helps a child carefully peel the banana