June 30, 2014--Iconic entrepreneur and founder of Kyocera Corporation and KDDI Corporation, Inamori Kazuo visited Lingyin Temple with a warm reception from Abbot Guangquan in forming a friendly bond.
Abbot Quangquan received the special guests at the Lantern Pavilion Reception Hall and immediately engaged in deep discussion of Buddhist cultures with Mr. Kazuo. The Abbot then reflected on his personal experiences with Japanese Buddhism and introduced the history of Lingyin Temple, the local Buddhist culture, and the numerous large-scale Buddhist events that Lingyin Temple hosts at a national level. The two sides exchanged gifts in a brief ceremony as Abbot Guangquan and Mr. Kazuo engaged in further discussion before concluding the meeting in an atmosphere of fond friendship.
Mr. Kazuo achieved legendary status in the Japan as one of four 'Saints' of the Japanese business world. Beyond having been the founder of Kyocera Corporation, he also established the Seiwajuuku Foundation. He has been revered with legendary status in Business and Economic world partly due to his management styles developed from Buddhist and Asian philosophies, and authored autobiographical business book.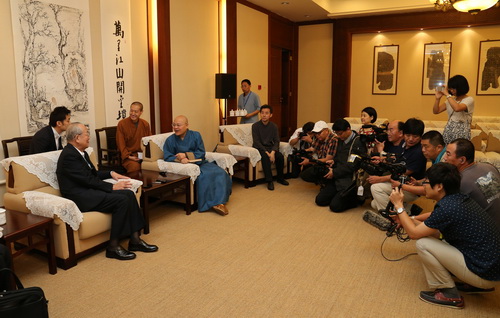 Abbot Guangquan Welcomes famed entrepreneur Inamori Kazuo at Lingyin Temple's Lantern Pavilion
Buddhist greetings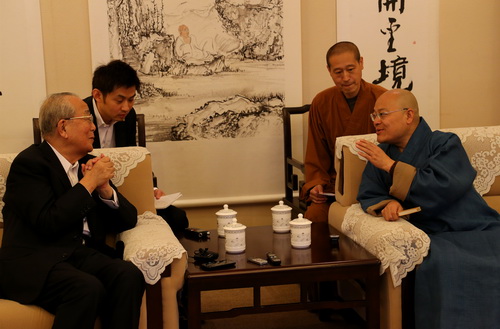 Friendly bond in initial interaction
Exchange of gifts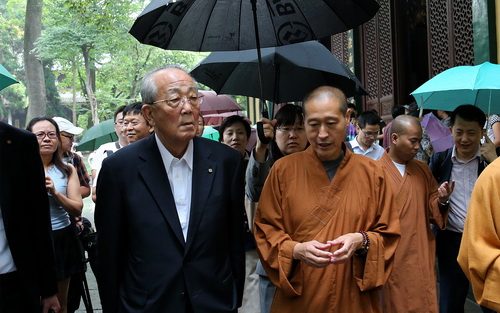 Temple tour amidst rain
Showing the Hall of Five Hundred Arhats
Mr. Kazuo pays respect to the Buddha at Lingyin Temple's Mahavira Hall