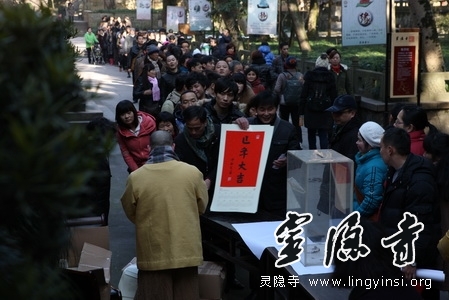 Connect with the Buddha in this Auspicious Year of Snake
Jan 1, 2013, the twentieth day of the eleventh lunar month, Lingyin Temple was handing out wall calendar to Hangzhou citizens, believers and tourists as New Year blessing from Buddha. Master Guang Quan calligraphed these four Chinese character "巳年大吉" (which means Auspicious Year of Snake), and turn it into exquisite wall calendar.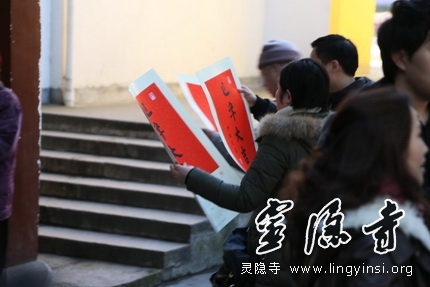 People Received blessing from the Buddha

Early in the morning, The Venerables of temple were already standing in the biting cold wind in front of the Hall of the Five Hundred Arhats, handing out the "巳年大吉" wall calendar to public. People were touched and queuing orderly in line with their grateful heart, waiting to receive the New Year blessing from Buddha and this ancient temple. Under the background of these seemingly ink scented wall calendar, all the faces were filled with happiness and serenity, as well as the hope of future bliss.
Citizen shows the wall calendar happily
In recent years, Lingyin Temple has been giving out wall calendar on New Year's Day as New Year blessing. Last year, the wall calendar with four calligraphic character "龙年祈福" (which means praying good fortune in year of dragon) was also inscribed by abbot Guang Quan.