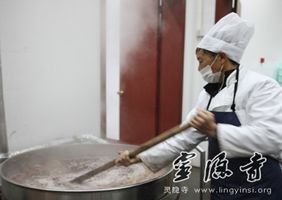 The seventh and eighth day of the twelfth month on the lunar calendar has long been associated with the coldest days of the year. The freezing weather was common for much of the global world, which also added to the feel of winter in Hangzhou. If you can enjoy a bowl of steaming, appetizing and sweet Laba Porridge in such cold weather, you will feel warmth both in your body and heart.
On January 12, 2013, the first day of the twelfth month on the lunar calendar, a week before the traditional Laba Festival, there were six cauldrons placed in a line at the facilities for stewing Laba porridge in Lingyin Temple. Some volunteers concentrated on mixing porridge, some were pouring porridge into disposable bowls, and the others were neatly putting them on the portable shelves to seal last packages after the cooling process. That marks the first day of stewing porridge in Lingyin Temple this year.
Ingrediants for Laba porridge
Volunteers stir continuously to avoid sticking
The volunteers pouring the porridge into containers
In recent years, Lingyin Temple held the ancient Laba celebration annually to return the support from the community. In 2010 and 2011, the amount of porridge distributed by Lingyin has grown to the become one of the most in China. This year, we will still deliver more than 300,000 servings of porridge to over twenty communities, nursing homes and welfare institutions of seven districts in Hangzhou on Laba Festival. The Lingyin porridge was also handed out to the larger beneficiaries, even to the busy cleaning workers, traffic policemen, and taxi drivers in the festival in the hopes it would bring them a warm holiday wish and good fortune.
The volunteers preparing last of the packaging
The Laba porridge activity of our temple has already begun on the 11th day of last month. We purchased a total of 13 types of main ingredients, more than 50 tons, including peanuts, red beans, candied dates, longan, red dates, lotus seeds, white kidney beans, ginkgo, glutinous rice and sugar, etc.. In these cold days of heavy frost and deep snow, volunteers from all directions made the trek to Lingyin Temple every day to cultivate blessings through good intentions. The preparation requires immense tedious tasks such as selecting beans, shelling ginkgo and so on. The small bowl of Lingyin Laba porridge not only present a lucky blessing to next year but also Buddhism's good will from volunteers and Sangha of Lingyin Temple.