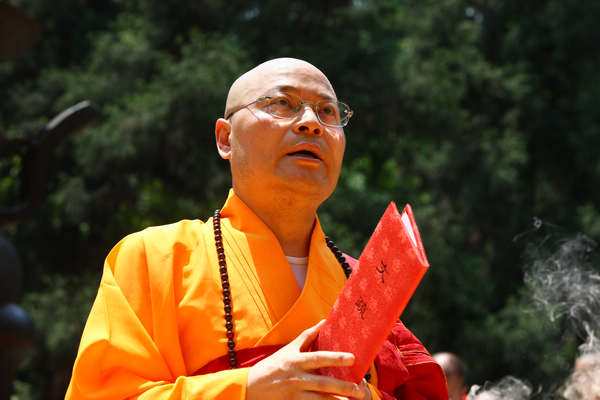 Ven. Guangquan, the abbot of Lingyin Temple in Hangzhou
2011-08-12 By Cang Wei (China Daily) [Provided to China Daily]
Shi Guangquan, the 50-year-old abbot of Lingyin Temple in Zhejiang's capital Hangzhou, presides over a Buddhist ritual in this file photo.
Hangzhou - Shi Guangquan once worked behind the wheel of a bus. Now he is a driving force behind the promotion of Buddhism in China.
"Buddhism let me know how to understand this world, and it also tells me how to make my life meaningful," said Shi, 50, one of the most revered Buddhist masters in China.
Shi is the abbot of Lingyin Temple, which lies in the cultural West Lake landscape of Hangzhou in East China's Zhejiang province. Founded in AD 328, it literally means Temple of the Soul's Retreat.
The master said he was not impressed by Buddhism at an early age. From 1979 to 1989, he worked as a bus driver in Hangzhou, and even tried to join the army when he graduated from high school.
"But I was refused due to my poor eyesight," said the bespectacled abbot, smiling.
However, his father's death in 1984, which made him feel the impermanence of human life, changed his future. "At that time I often went to a local temple to hear the monks chant for my deceased father, and I felt peace of mind in that situation, with the sound of chanting and the aroma of incense."
He then started to learn Buddhist mantras at home and became an ardent volunteer serving a nearby temple."I enjoyed the years of being a lay Buddhist, in which I learned many Buddhist doctrines, including doing good things to elevate the soul and accepting whatever happens to you."
As fate would have it, a dream he had in 1989, in which he became a monk of Lingyin Temple, made him determined to convert.
"Things happen for a reason, and I heeded the call of the spirit," the master said.
His decision didn't sit well with his family. His mother cried for three whole days before giving her consent.
"My mother cried because she misunderstood Buddhism, just like lots of Chinese people do," said Shi.
His mother and many Chinese people think that once a person converts to Buddhism, he or she will have no connection with family anymore.
"It is regulated in the Buddhist doctrine that you should take care of your parents," said the abbot. He now visits his mother once a year, usually on the eve of Spring Festival, the Chinese lunar New Year's eve.
Ordained into the Buddhist order in 1990, Shi studied Buddhist doctrines in Shanghai and returned to Hangzhou seven years later.
"There were almost no Buddhist activities in Hangzhou," recalled the abbot. "I felt it was my responsibility to promote Buddhism."
He founded the first Buddhist seminary in the city, offered courses in Buddhism, held meetings about religious communication and organized the world's first Buddhist forum.
Now as an abbot running a temple of more than 110 monks and the chairman of the Hangzhou Buddhist Association, Shi said that his busy daily life is "different from the previous one".
Besides work from his own temple, he also has to deal with affairs of local and national Buddhist associations, attend meetings in China and abroad, and from time to time welcome foreign heads of state.
However, the abbot said Buddhism faces problems in China, including a lack of religious people, a decline in the number of monks and poor promotion.
"Misunderstandings about monks are still prevalent in China," said Shi. Many people still feel strange when they see monks use cell phones, take public transportation or even read newspapers. Sometimes people even upload pictures of monks buying food or making phone calls.
"It's discrimination against monks and an interference with other's private lives," said the master. "Some people still hold the outdated idea that monks should be pale and live in remote mountains," he said.
"As the abbot of Lingyin Temple, I think my most important task is to help people understand Buddhism and the peace they can obtain through its teachings."
The monastery now often invites lay Buddhists and religious people to enjoy tea and music in the temple and holds a Buddhist cultural festival every year.
"Instead of waiting in temples for religious people to visit, Chinese monasteries should be more active in promoting Buddhism," said Shi. "When you stop moving forward, you're already on your way backward."
View: 9488