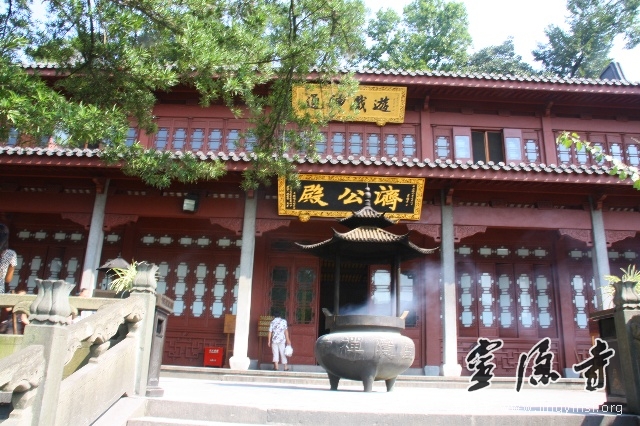 Hall of Master Ji Gong, also called "Daoji Hall", is situated to the east of the Medicine Buddha Hall, downstairs in the East Zen Hall.
At the center of Ji Gong Hall stands a statue of Master Daoji, with his right hand holding a broken fan, his left hand carrying Buddhist prayer beads, and his right feet putting on a wine jar. The statue is made of bronze, with a height of 2.3 meters and a weight of 2.5 tons. The prototype of this statue is a portrait of Master Daoji painted by Zhuchan, an artist monk in the Qing Dynasty and.stored in Lingyin Temple,
Eighteen huge murals of Master Daoji delicately painted on the wall encircle Ji Gong Hall, with each mural 3 meters high and 3 meters long. The 50-meter long murals display a narration of Master Daoji's legendary life stories on Chinese scroll paintings of landscape. The mythical stories of Master Daoji are thoroughly depicted on the murals, about how he started his worldly life as the incarnation of Tiantai Arhat, who punished bullies as well as helping the unprivileged while playing around his whole life. The murals on the wall also recreate many scenic spots of Hangzhou in the Southern Song Dynasty. It took Lin Haizhong, a professor at the China Academy of Art, and his students almost three years to finally accomplish the work in 2011.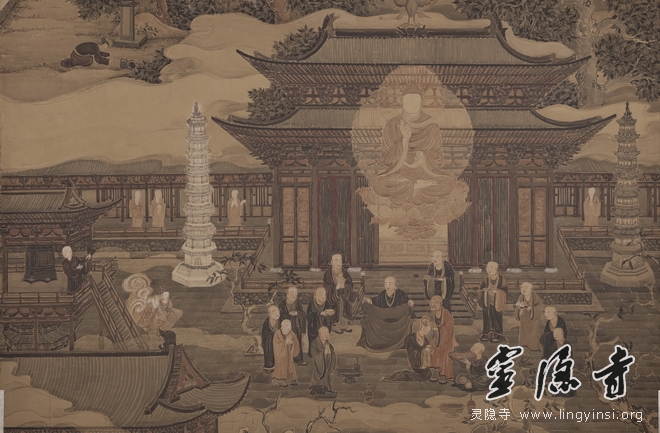 Ji Gong, with the Buddhist name Daoji or Jidian, is known as a legend familiar to Chinese and also a real monk in history. He was born with the name of Li Xiuyuan, in Taizhou City of Zhejiang Province, who was later regarded as an eminent monk in the Southern Song Dynasty. He was born in 1148, the 18th year of Shaoxing Period in the Southern Song Dynasty governed by Emperor Gaozong, and passed away at the age of 60 in 1209, the 2nd year of Jiading Period in the Song Dynasty governed by Emperor Ningzong. Ji Gong was tonsured and then became a Buddhist monk in Lingyin Temple, and passed away at Jingci Temple in Hangzhou.
View: 14511